Royal wedding: Making money with a place to stay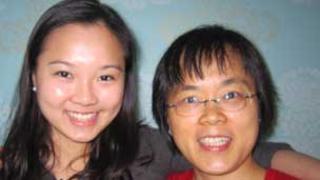 Finding a location is one of the most important decisions for a couple preparing for their wedding day.
But while Westminster Abbey was a relatively easy choice for Prince William and Kate Middleton - their decision has brought an unexpected boost for some people living nearby.
Susan Chen and her mum Barbara live in a luxury two-bedroom apartment in central London - just a three-minute walk from the Abbey.
They will not be in London on 29 April, so they want to rent out their home.
"I thought it would a great way to generate some extra cash, and I could use it for a summer holiday," says Susan.
They are charging £800 to stay on the night of the royal wedding.
For that, visitors would have a king-sized bedroom with en suite bathroom, 24-hour concierge, and use of a gym and sauna.
With more than a million visitors expected to go to London for the royal wedding, many will be looking for places to stay - and it is not just the Chens who will be looking to cash in.
The British Hospitality Association says the average hotel room will be around £250 a night.
But - for occasions such as this - websites are offering services that match up hosts and visitors in private homes - ranging from an airbed in a hallway, to luxury homes.
Royal demand
Stephen Rapoport helped set up Crashpadder just over a year ago. Now the website has people offering to rent rooms in 93 countries. The company takes a 10% cut of any payments.
"We have got 3,000 hosts in the UK and we normally see hundreds of booking requests on those rooms. In the weeks either side of the royal wedding we have seen an increase of about 106% across the board," he says.
He says tourists can save up to 80% on the price of a hotel room. As well as founding the company, he regularly lets out his own rooms.
"More often than not, I have a crasher in. I generate about £1,000 a month from my spare room," he says.
He has a group of students staying for the wedding, and is renting out a room and a futon. He is charging them £30 per person.
The average London room offered on the website normally goes for about £45 a night. But during royal wedding week, demand has pushed prices up to £70, he says.
Some of the accommodation on the site is much more expensive though.
Worries
Susan Chen says she is slightly nervous about giving out the keys to her home.
"At the end of the day, you are picking up strangers from the internet, which can be dodgy," she says.
"We are doing all we can to take precautions, and that is why we put our prices so high."
People should consider the tax implications of renting out furnished rooms. The Government's Rent A Room Scheme means the first £4,250 people earn doing this can be tax-free.
But the relief is not automatic and a declaration is still needed on a self-assessment tax return.
James Daley, editor of Which? Money, says people should take some other important steps before allowing strangers to stay in their home.
"Firstly, speak to your insurer, check they are happy with people coming in to your home, and what exclusions there are," he says.
"Check your mortgage lender is happy with it, especially if you are doing it on a regular basis.
"Lock up your valuables, and make sure you take a deposit. So, if there is damage, you have got some money to cover it."
Crashpadder's Stephen Rapoport says no guests or hosts who were matched through his website have ever reported any serious incidents.
"When people book on their credit cards, I know who they are and where they live. Also, an independent third party knows they are in my home on certain dates," he says.
"But people are so much nicer than the media would have us believe."