Galleon insider trading case hears final defence pleas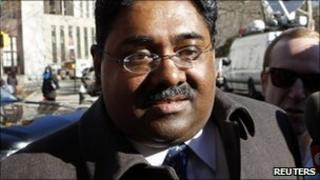 The defence has given its closing arguments in the US trial of the billionaire boss of hedge fund Galleon Group who is accused of insider trading.
Raj Rajaratnam's lawyer told the jury the government had failed to prove he had broken insider-trading laws.
Earlier, prosecutors claimed he had taken advantage of friends to illegally make millions of dollars.
Mr Rajaratnam denies 14 counts of securities fraud and conspiracy.
The trial has been adjourned until Monday.
The Sri-Lankan-born billionaire, who is 53, is the central figure in a sweeping US government probe of insider trading at hedge funds, and the only defendant so far to go on trial.
He is accused of making as much as $63.8m (£39m) of illegal profit from 2003 to March 2009 by trading on tips from a network of highly-placed corporate insiders.
The Assistant US Attorney, Reed Brodsky, told the jury in his closing argument on Wednesday: "The defendant knew tomorrow's news today, and that meant big money."
He added that the defendant tried to "conquer the stock market at the expense of the law", and that there was "overwhelming" evidence of his guilt.
Secret calls
The court has heard dozens of secretly recorded phone calls and heard from highly-placed business figures, including three who pleaded guilty to criminal charges and testified at the trial in the hope of winning lighter sentences:
Former McKinsey & Co consultancy partner Anil Kumar
Former Intel Corp executive Rajiv Goel
Former Galleon portfolio manager Adam Smith
Mr Rajaratnam's defence told the New York court the alleged insider tips he got were common knowledge.
His lawyer, John Dowd, presented the court with dozens of e-mails, trading records and excerpts from trial testimony to argue that his client had made trades based on public reports, not on insider tip-offs.
Prosecutors have called the case the "largest hedge fund insider trading case in history".
So far more than two dozen people have been criminally or civilly charged in the case. Most of them have pleaded guilty.
Mr Rajaratnam faces 25 years in prison if found guilty.