Norio Ohga, former Sony president, dies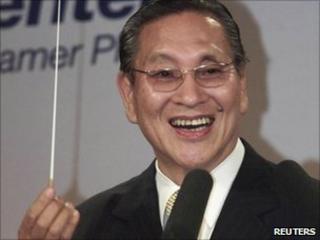 The former president and chairman of Sony, Norio Ohga, who was credited with developing the compact disc, has died aged 81, the company has said.
Ohga, who led the company from 1982 to 1995, died of multiple organ failure in the Japanese capital, Tokyo.
Sony's chairman, Sir Howard Stringer, said his predecessor's foresight and vision had transformed the company into a global entertainment leader.
Ohga was still a senior adviser to the company at the time of his death.
In 1953, Sony's co-founders recruited Ohga while he was still studying at the Tokyo National University of Fine Arts and Music and hoping to pursue a career as an opera singer. They sensed his knowledge of sound and electrical engineering would benefit the firm.
He was an executive by his 30s - a rarity in a Japanese company - becoming the president of CBS Sony Records (now Sony Music Entertainment) in 1970s.
From the start, he recognised the potential of the compact disc, and personally drove Sony's initiatives to introduce the format.
During the development of the CD, it was Ohga who pushed for a disc that was 12cm (4.8in) in diameter, because it provided sufficient capacity at 75 minutes to store all of Beethoven's Ninth Symphony.
Sony sold the world's first CD in 1982 and CDs overtook LP record sales in Japan five years later. Ohga's specifications are still used today, and have shaped formats developed since, including MiniDisc and DVD.
In 1989, he oversaw the $3.4bn purchase of Hollywood studios Columbia Pictures, which was criticised as unwise and costly at the time.
Ohga also presided over the launch of Sony's game business, which went on to develop the successful "PlayStation" console.
"By redefining Sony as a company encompassing both hardware and software, Ohga-san succeeded where other Japanese companies failed," said Sony Chairman Howard Stringer, using the Japanese honorific.
"It is no exaggeration to attribute Sony's evolution beyond audio and video products into music, movies and game, and subsequent transformation into a global entertainment leader to Ohga-san's foresight and vision," he added.
Ohga stepped down as Sony's president in 1995 and continued to serve as chairman and representative director until 2000.
He was also the chairman of the Tokyo Philharmonic Orchestra.