MP urges Silentnight creditors' rescue agreement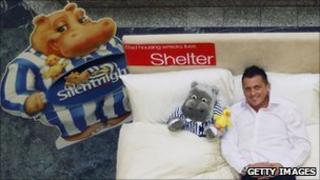 Creditors of bed manufacturer Silentnight have been urged by a Lancashire MP to approve a new finance agreement that could save the company.
The Barnoldswick firm will meet creditors this week to ask for a Company Voluntary Agreement (CVA) to help it avoid administration.
The CVA is needed after banks withdrew their loans and will allow the firm's pension debts to be transferred.
Pendle MP Andrew Stephenson wants creditors to see the CVA benefits.
Under the proposal, pension liabilities of £100m dating back to acquisitions made in the 1980s and 1990s, would be transferred with the company pension scheme to a Pension Protection Fund.
'Bright future'
Creditors will also be asked to accept reduced repayments to enable the company, which trades profitably, to continue manufacturing.
Conservative MP Mr Stephenson said: "At the moment everything rests on whether the creditors upset this new arrangement.
"At present the firm is very much a going concern and they're still producing beds and there are no plans for any redundancies at the moment, so I just hope they can get through the next difficult few weeks and hopefully be able to move on for a bright and profitable future.
"Most manufacturers and engineering firms across Pendle at the moment are doing very well, so this is a big blow to hear that Silentnight are in difficulties as they are a major employer, employing over 650 people."
Silentnight was founded in 1946 and supplies about 500,000 beds a year to retailers.
It employs about 1,250 staff at sites across Barnoldswick, Cumbria, West Yorkshire and Ireland.