UK interest rates: When will they rise?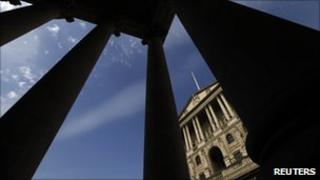 Interest rates in the UK have been at a record low of 0.5% since March 2009, and the arguments for raising rates are gathering momentum.
With inflation at double the Bank of England's target, and likely to stay there for some time, many think the Bank should increase rates sooner rather than later in order to combat rising prices, which are eroding consumers' spending power.
But others say it is still too soon and the Bank's Monetary Policy Committee (MPC) should hold off, for fear of jeopardising the UK's fragile economic recovery, particularly in light of the economy's 0.5% contraction in the final three months of last year.
At the MPC's meeting earlier this month, three members of the nine-person committee were in favour of raising rates.
So it seems a case not so much of will the MPC raise rates?, but when will it raise rates?
The BBC asked 22 economists just that, or more specifically, "In which month do you think the MPC will raise interest rates?"
Fourteen out of the 22 said August, four predicted May, and one each said June, July, November and February.
They were then asked, "What level do you think interest rates will be at by the end of the year?"
Twelve said 1%, six said 1.25%, one said 1.3%.
Two predicted a smaller rise to 0.75% by the year end, while one, HSBC's Stuart Green, thought rates would still be at 0.5%.
But on what basis do economists form their opinions?
George Buckley from Deutsche Bank predicted an August rise and believes rates will stand at 1% at the end of the year.
He thinks that while the economy is still weak, it is not so weak that it could not cope with a rate rise.
"We're also forecasting higher rates because inflation's very high. The Bank still thinks it's going to go up over the next few months."
If you raise interest rates, that will help combat inflation, he says.
So why does he think August will see a change in policy?
"It'll be on inflation report months," he says, referring to the report that the Bank of England produces every three months, looking in detail at the state of the economy and giving its outlook on inflation.
"May, August, November, February. The Bank has traditionally done it on inflation report months."
Some 50% of all inflation report months has seen some change in policy, he says, either a change in rates or some sort of quantitative easing.
That compares with just 20% of non-inflation report months seeing a change in policy.
But economists' views are influenced by many factors, chiefly economic data, and some of these predictions could soon change.
"A key statistic is coming out on Wednesday - GDP [gross domestic product] for the first quarter," says Ray Boulger from the mortgage broker John Charcol.
"Depending on how bad they are, that might actually have an impact on expectations.
"Most economists who were forecasting a rise in May have changed their view after the last CPI [inflation] data, which showed a fall to 4% [from 4.4% the previous month].
"If we see another fall in April, which I think is quite likely, that may change views again."
If we accept, though, that rates will rise before the end of the year - and 21 out of 22 economists think they will - what impact will this have on the housing and mortgage market?
According to Mr Boulger, the speed at which they are increased is critical.
"As far as fixed-rate mortgages are concerned, lenders are factoring in the expectation that rates will rise," he says.
"Most economists expect rates to be at 1.75% to 2% at the end of next year - that's factored in to fixed rates.
"What will be important is when we see the first rate rise, whether the market's expectations change with that."
He does not expect an initial 0.25% rise to have that much of an effect on an already subdued housing market.
But a lot depends on what happens after that, he says.
"If consumers are led to believe rates are going up faster than expected, that's not good for the property market."