Virgin Active agrees to buy Esporta gyms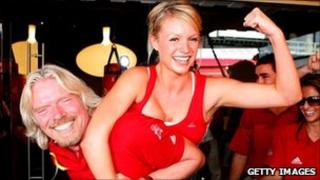 Virgin Active is planning to take over its rival gym chain Esporta in a move that will lead to a big increase in the number of its number of outlets.
Virgin, which is majority-owned by Sir Richard Branson, is offering £77.5m for the 55 Esporta gyms, which it aims to add to its own 71 gyms across the UK.
The move will need approval from the Office of Fair Trading (OFT).
If passed, it will be the first major purchase since Virgin bought the Holmes Place gym chain almost five years ago.
Virgin Active also reported results for the year to the end of December.
Total revenues rose by 14% to £445.2m, while revenues from gyms open for 12 months or more increased by 9% to £416.8m.
Ahead of the Esporta deal, Virgin Active owns 194 gyms worldwide. It has a total membership of more than a million worldwide, with 430,000 in the UK.