UBS shares up as wealthy clients flock back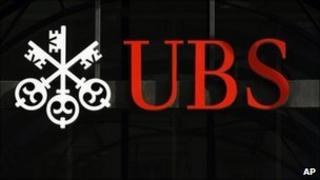 Swiss bank UBS has reported a turnaround in business at its key wealth management unit.
Shares in the banking group jumped 6% in early morning trading on Tuesday.
The positive market response came despite a fall in first-quarter profits, which UBS blamed on the strong value of the Swiss franc, as well as weak business at its investment bank.
The bank reported a net profit of 1.8bn Swiss francs ($2.04bn; £1.2bn), down 18% from the same quarter in 2010.
'Satisfied'
The Swiss firm, for whom high net worth clients remain a core part of the business, said it had seen 11.1bn Swiss francs in client money inflows in the three months, in its latest quarterly results.
It reverses a previous trend of large outflows by clients seen up to and including the first half of 2010, that followed the forced disclosure by UBS of account details to US tax authorities, as well as a string of reported losses for the bank following the 2008 financial crisis.
"I am satisfied with our result considering market activity during the first quarter, and I am particularly pleased by the increase in net new money, confirming the return of client trust and confidence," said chief executive Oswald Grübel in presenting the quarterly results.
Client outflows continued in Europe, but this was more than offset by major inflows in Asia-Pacific and other developing markets, as well as by super-wealthy clients.
Overall profits at the banking group were weighed down by the strong Swiss franc, which reduced the reported value of income that was earned predominantly in other currencies.
The franc has risen about 13% against the euro and 30% against the dollar since last summer.
"We'll continue to see that [currency] effect for some time," John Cryan, the bank's chief financial officer, told reporters.
Meanwhile, the firm's investment bank - which provides corporate clients with financial advice and which deals in global capital markets - continued to struggle.
Total income at the division was down 11% to 3.6bn Swiss francs, echoing the decline in business levels seen at most of UBS investment banking rivals across the globe.
UBS warned that it would also face higher costs in the second half of the year as it attempted to retain staff in the face of competition from rival banks.
The Swiss firm has seen a string of top bankers at its investment bank jump ship in recent months.