Royal wedding: No obligation for paid leave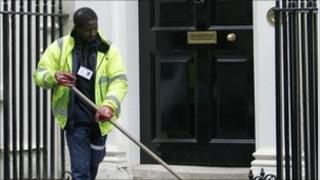 The chances of workers getting time off work for the royal wedding will depend on their contract or employers' goodwill.
The TUC has called on employers to honour the bank holiday - but accepted that it was not included in some workers' leave entitlement.
The government said it hoped UK employees would get the day off.
But lawyers say that there is no automatic right to paid leave on the 29 April bank holiday.
They say it depends on the precise wording of an employment contract.
If a contract states staff are entitled to 28 days holiday per year - the legal minimum under the working time directive - there is no obligation to give staff extra time off for the royal wedding.
However, if a contract states employees are entitled to bank holidays, then 29 April should be a day off.
'Goodwill'
Although many employers do not have bank holidays noted in staff contracts, they have decided to allow paid leave.
TUC general secretary Brendan Barber said: "While most people are likely to get paid leave on 29 April as a result of their employer's goodwill, a significant minority of tight-fisted companies have decided to ignore the national mood and insist on keeping staff chained to their desks while everyone else is enjoying the bank holiday.
"Not offering paid leave or overtime will rebound on employers as they risk demoralising their workforce and damaging their reputation among their customers."
Businesses that have refused paid leave for workers have tended to argue that the extra day off would bring significant and unaffordable costs.
"April is already a short month with two bank holidays so why add a third? The effects on businesses will be crippling," said Jim Venables, managing director of officebroker.com, which has 80 staff.
"Shutting down on that Friday could cost my business up to £50,000 in lost revenue, plus the additional cost of paying staff on that day.
"I wish the young couple all the very best but I cannot see why they do not get married on a Saturday like everyone else does."
Contractual details could determine whether those who do work on Friday are awarded overtime pay or regular wages, or a day off in lieu.
The TUC wants a legal entitlement for at least a day off in lieu for special bank holidays in time for the Queen's diamond jubilee celebrations in 2012.