Hard work and hard times in recession-hit city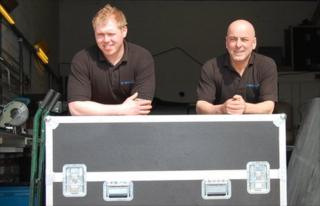 It has been a difficult few years for businesses in Hull; not many cities have been hit as hard by the recession.
Yet among the harsh statistics there are glimmers of hope. Unit 18 on the Brighton Industrial estate in west Hull is a hive of activity.
This is where Daniel Henderson and Gary Irons are following in the Full Monty entrepreneurial spirit and have set up their own business in the recession-hit northern city.
"There'll be no bank holidays for us this year, this order has to be ready in just two weeks," says Mr Henderson, partner of Hi-Spec Cases, as he steps away from the machinery and takes off his protective goggles.
Alongside their two new recruits they are busy cutting strips of aluminium, timber and foam to produce 90 custom-made flight cases, which are used to protect electrical equipment.
The duo set up their business two years ago after losing their jobs at another case-making firm.
"We knew it was going to be impossible to find jobs in the middle of a recession, so we decided to do what we know best and manufacture flight cases," says Mr Henderson.
Rebalance economy
Armed with a £30,000 bank loan and enthusiasm, they have seen their endeavours slowly start to yield a small profit, with a healthy order book promising work for the future.
"In some ways the recession actually helps our business, as people prefer to spend a few hundred pounds on a flight case to protect their plasma screens, computers and electronic equipment rather than fork out thousands of pounds if their gear gets damaged when it is moved around."
Since the downturn began, the research group Centre for Cities calculates that Hull has seen one of the largest rises in people claiming unemployment benefit.
The Prime Minister, David Cameron, says he wants to see more start-ups like Hi-Spec Cases leading the economy out of recession and rebalancing it away from the South East and the services sector.
'Spiralling petrol bills'
But the owners of Hi-Spec Cases believe the government could be doing a lot more to help new businesses.
Mr Irons believes January's rise in VAT from 17.5% to 20% was one of the worst things to have happened to their fledgling company.
"There's no way we can pass the increase on to our customers because we're too new to the game. We need to be competitive, so we're having to absorb the rise and squeeze our already small margins."
The partners also have something to say about petrol prices, which are up 15% on 12 months ago, according to Experian Catalist.
"Ideally we'd like to save up to buy big machinery, which would allow us to take on larger orders, and ultimately employ more people," says Mr Henderson.
"Instead we're spending what little money we make on spiralling petrol bills.
"Six months ago delivery companies gave us free delivery on our raw materials, but that has now stopped. It would be really helpful if the government gave small businesses like ours a fuel rebate."
Cuts
Elsewhere there are concerns among business owners about the public sector cuts that loom large. The city is highly dependent on public sector employment.
Tucked away in the picturesque, cobbled Trinity Square, Marie Clare hair salon is doing brisk trade.
It is one of the few city centre shops where a "50% off" or "further reduction" sign cannot be seen in the window.
But owner Abbie Jackson admits she is worried about Hull City Council's plans to shed up to 1,400 jobs over the next 18 months.
"A lot of my clients have told me they are being affected by the cuts and we expect it to start showing on our business as we continue through 2011," says Miss Jackson.
She says she has noticed clients returning less frequently to the salon but reckons the key to survival is not being complacent and working hard to get new customers through the door.
"The banks don't help either. When I needed a loan for just £500 to pay suppliers, my bank didn't want to know. It wouldn't give me a temporary overdraft for just two days. I was furious."
Reduced hours
Sitting under one of the hair dryers, with foils in her hair, barmaid and single mother-of-one Vicki Ness knows all about cutting back.
"I used to have my hair done religiously every six to eight weeks but once my hours were cut at the pub I had to leave it up to three months at one point."
"I get £40 less a week in my pay packet than six months ago so I budget to come here. I put aside £10 every week from my wages to come more frequently. It's not just the problem with the job but everything in the shops has shot up in price. Have you seen how much a bag of pasta is these days?"
At the one of the city's main taxi ranks, self-employed black-cab driver Dave Williams has been waiting 35 minutes for a customer.
He says: "I've been doing this job 40 years on and off and since January trade has really gone through the floor.
"Last week week I was £200 down once I take into account my costs and it's been like this for a good few weeks now. This is the worst it has ever been."
Meanwhile, in another part of town, the bustling student area of Newland Avenue, one local trader, Chris Sykes, has seen profits from his Space-Clothing store plummet 30% over the past year.
He has been selling urban menswear in Hull for nearly two decades but has noticed a real change in spending attitudes over recent years. He blames higher university tuition fees for students spending less in local shops.
Cotton prices
As he hangs a bright red T-shirt on a rail he also remarks on the fact that cotton prices have rocketed 120% over the past six months.
"Our margins have been hit by the rising price of cotton. I can't pass the rise on to customers on top of the VAT hike, so on most of my products I'm having to absorb the increase, it's very difficult."
"Thankfully Space-Clothing is online, and that's keeping us afloat. But I've noticed I'm dispatching most of our orders to addresses in the south of the country. The recession must not be half as bad down there!"
Down at Hull's world-famous docks, there is a degree of optimism in the air.
One of Hull's biggest employers, Associated British Ports had to make 30 redundancies during the recession, but has recently begun to take on new staff.
"Things are starting to pick up again, steadily," says port director Matt Jukes as he watches a cargo of trackers being unloaded from a ferry.
He says he will be keeping an eye on the number of retail containers and passengers to pass through the ports, to gauge whether we have seen the worst of the recession.
"The next 12 months will be interesting, but I'm optimistic for the long-term future of the city, especially now the government has given the go-ahead for plans to build one of the UK's largest offshore wind farms off the Yorkshire coast."