Cheque payments 'affected by holidays'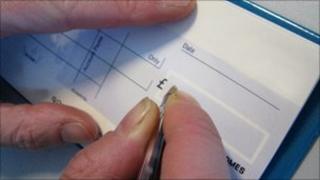 Consumers are being urged to scrutinise bills and invoices as cheques could take two weeks to clear during the holiday period.
The UK Payments Council said that the current regularity of bank holidays meant people should take care over the timing of payments.
There are only five working days between 20 April and 2 May, owing to the various bank holidays.
But only after six days is a cheque deemed to have cleared absolutely.
After a cheque is cleared, banks cannot recoup money from a customer's account if they discovered the original cheque payment was fraudulent.
Interest must be credited no more than two days after a cheque has been paid in and the money must be available to be drawn out after no more than four days.
"It is unusual to get so many bank holidays in such a short space of time, so it makes sense to think about what bills and invoices you might be due to pay - and to consider if you have to make alternative arrangements for any of them," said Gary Hocking, acting chief executive of the Payments Council.
"With a wider range of payment options available to us than ever before, taking five minutes to check up on your ways to pay can help you make sure that you are not affected."
Direct debit payments are not processed on bank holidays, but are taken on the nearest day to when a bill is due.
Many electronic payments, if part of the Faster Payments system, clear on the same day as a payment is made - regardless of whether it is a weekend or bank holiday.