Andrew Sentance warns Bank of England on inflation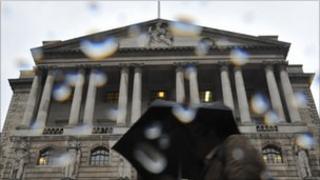 The Bank of England may be risking its inflation credibility by not raising rates, a member of the Bank's interest rate committee has said.
Andrew Sentance, one of the nine members of the Monetary Policy Committee (MPC) that sets borrowing levels, said its failure to raise rates may suggest it was soft on inflation.
Mr Sentance is the hardest-line member on the MPC on inflation.
In recent months he has called for interest rates to rise from 0.5% to 1%.
'Upward drift'
Mr Sentance has spent almost five years sitting on the MPC and will have completed his term with the committee next month.
During a speech to Manchester business leaders, he said: "I do worry that the MPC's credibility and commitment to the inflation target may already have been eroded by not adjusting policy settings soon enough.
"It may be that indicators of an upward drift in inflation expectations are only flashing amber at present. But if the MPC waits until they are flashing red... the Committee could face a very difficult situation later this year or next."
Consumer Prices Index inflation is currently running at 4%, double the Bank's target.
Mr Sentance said the rate had been 3% or higher for most of his time on the MPC, and he has been voting for higher rates since the middle of last year.
Although two other members also think interest rates should rise to curb inflation, the counter argument runs that it is too soon to increase borrowing costs as the economy is too fragile to withstand it.
On Wednesday, the latest figures on UK economic growth will be released.
They are expected to show that UK gross domestic product grew at about 0.5% in the first three months of the year.
However, Mr Sentance warned against putting too much emphasis on the figures, saying that his experience as an economist suggested that first estimates were often too low.
MPC 'strength'
Despite his fears about inflation, Mr Sentance praised the democratic way the MPC worked.
"A great strength of the MPC is that its members can honestly express differences of view in an open and transparent way, and that means we are not forced to agree and minority opinions are respected," he said.
He concluded his speech by saying he hoped his remarks during his time there had made an impression on his fellow members.
"While I have not been in agreement with the majority view on the Committee over the past year, I hope that the arguments I have made have not been in vain."