US house price falls continue, Case Shiller index shows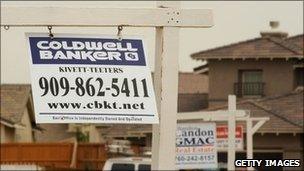 US house prices fell for the eighth month in a row in February and are nearing lows reached during the 2009 recession, a survey has said.
The Case Shiller housing index, which is compiled by rating agency Standard & Poor's, was down 3.3% from a year ago.
"There is very little, if any, good news about housing," said David Blitzer, S&P's index committee head.
"Prices continue to weaken, trends in sales and construction are disappointing."
Recent data confirms that the US housing market remains in a "slow recovery", says Mr Blitzer, with home sales still close to recent lows and repossessions and mortgage payment delinquencies still elevated.
The one exception is Detroit, at the heart of the US rustbelt, where prices finally appear to have bottomed out.
However, home values in Detroit remain 30% below their level of 2000, thanks to a market slump in the city caused by the near-collapse of the US car industry.
The index is now just 0.4% above the low it reached in May 2009 following the bursting of the US housing bubble.
Related Internet Links
The BBC is not responsible for the content of external sites.