BP profits dip on Gulf of Mexico clean up costs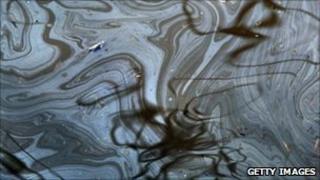 Profits at BP have fallen as the firm continues to be affected by the impact of the 2010 Deepwater Horizon blast.
Replacement cost profit for the first quarter of 2011 was $5.5bn (£3.3bn) compared with $5.6bn last year.
Production in the quarter was down 11% from a year ago after BP sold assets to help pay for the cost of cleaning up the oil spill in the Gulf of Mexico.
BP also incurred an extra charge of $400m in the quarter for costs related to the Gulf clean up.
Massive cost
An explosion at the Deepwater Horizon rig in April last year killed 11 men and caused a massive oil leak.
BP's accounts for 2010 set aside $41bn to pay for the disaster - two and a half times more than its entire profit in 2009.
However, in February the firm said there was still "considerable uncertainty" over the final cost to the company of the spill.
BP says the majority of the subsea clean up work has now been completed.
BP's output has dropped as the firm has sold oil fields and refineries to help pay for the the clean up costs.
US regulators have banned drilling in the Gulf, further restricting BP's production levels.
Russian dispute
Net income at the firm's troubled TNK-BP joint venture in Russia doubled from from $543m in the first quarter of 2010 to $1.19bn.
BP is currently in dispute with its Russian partners over a deal it struck with the state oil group Rosneft to explore the Arctic for oil.
A deadline of 16 May has been set by Rosneft for the matter to be resolved.