Amazon profits slump by a third despite Kindle sales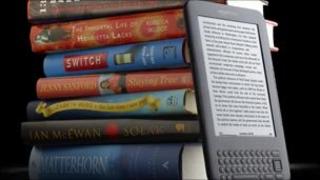 Online retail giant Amazon has reported a sharp slump in quarterly profits as the cost of investing in new business offset a big jump in sales.
Net income for the first three months of the year was $201m (£122m), down by 33% on the $299m the company made a year earlier.
But net sales rose sharply to $9.86bn from $7.13bn.
The rise in sales and fall in profit was in part thanks to a number of new products launched in the quarter.
These included new software for the company's popular Kindle e-book reader, cloud computing applications, which allow data to be stored on remote servers, as well as an e-bookstore in Germany.
North American sales hit $5.47bn, up 45 % on a year earlier, while international sales grew 31% to $4.39bn.
"We love inventing on behalf of our customers and have never been more excited about the long-term opportunities," said Amazon founder and chief executive Jeff Bezos.
'Investment year'
The company said it expected sales to continue growing sharply.
It forecast sales of between $8.85 and $9.65bn in the current quarter, a rise of between 35% and 45% on a year earlier.
Analysts said the first quarter profit figure was disappointing, but this was not a major problem while sales were rising so fast.
"This is another investment year," said Colin Sebastian at Lazard Capital Markets.
"It's probably not going to be until the fourth quarter that we see some leverage from that."