Taxman targets plumbers in latest campaign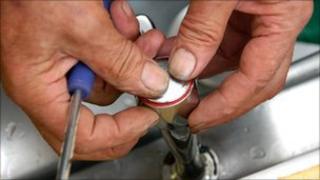 The taxman is targeting plumbers and others who work for cash in a fresh campaign against those not paying tax.
HM Revenue and Customs is writing to 50,000 tradespeople warning them to pay any tax they owe, or face big fines.
It is urging them to take advantage of a temporary amnesty which has been granted as part of an operation against tax avoidance and illegal tax evasion.
Last year, the Revenue targeted doctors and other medical professionals and raised £9m from the campaign.
This was paid by 1,500 professionals, although 30,000 were approached.
In the latest campaign, tradespeople will still be subject to fines of up to 20% of the tax owed.
However, investigations made after the amnesty could result in 100% penalties and prosecution.
According the government, £45bn is lost each year through unpaid taxes in the UK.