Primark profits hit by rise in VAT and cotton prices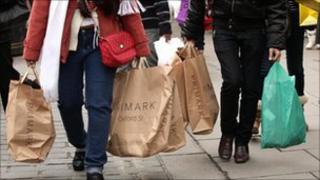 High street fashion retailer Primark has said its profits for the last six months have been hit by the rising price of cotton and January's VAT rise.
Primark saw a 5% growth in profits, but admitted it was "lower than last year" and said it expected margins to fall over the next half year.
Shares in Associated British Foods, which owns Primark along with Silver Spoon sugar, closed down almost 6%.
Meanwhile, Premier Foods also warned of further rises in raw material costs.
The UK's biggest food manufacturer, which owns the Hovis and Mr Kipling brands among others, said commodity and packaging costs had seen double-digit inflation in the first three months of the year, and expected them to continue rising, albeit at a slower rate.
The group also reported a fall in sales during the quarter. However, it said it was "in a good position to compete in an increasingly competitive marketplace".
Rising costs
ABF said that after a strong start to the financial year, Primark's trading in the UK had weakened since the New Year.
Like-for-like sales at Primark, which strip out the effect of new store openings, were up 3% on the same period a year ago.
Total group pre-tax profits were 7% higher than a year ago.
But ABF blamed the impact of higher costs, especially cotton and the rise in VAT in the UK from 17.5% to 20% on 4 January 2011, for the squeeze on its profits margins.
It said it expected UK consumer demand to continue to be weak and forecast lower-than-planned profit margins for the second half of the year.
"Much has been reported in the media in recent weeks about the contraction in the personal disposable income of the UK consumer due to higher fuel costs, food inflation and fiscal tightening," said Charles Sinclair, chairman of ABF.
"In this context, Primark's performance demonstrates yet again the strength of the brand".
European Expansion
Ten new Primark stores were opened during the period - six in the UK, two in the Canary Islands, one in Germany and one in the Netherlands.
The group said the trading performance in Continental Europe had been very encouraging.
ABF plans to open a further six shops over the second half of the year - three in the UK, two in Portugal and one in northern Spain.