Johnson & Johnson agrees Synthes takeover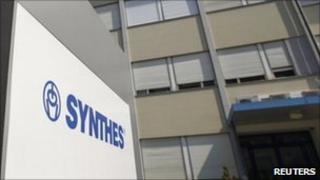 US healthcare giant Johnson & Johnson (J&J) has agreed to buy Swiss medical devices company Synthes in a deal worth 19bn Swiss francs ($21.3bn; £13bn).
Synthes, which does most of its business in the US, makes screws, plates, nails and other implants used to fix broken bones.
J&J wants to add Synthes to its current DePuy orthopaedics business.
J&J chief executive Bill Weldon said that orthopaedics was "a large and growing $37bn global market".
He added it represented "an important growth driver for Johnson & Johnson".
"DePuy and Synthes together will create the most innovative and comprehensive orthopaedics business in the world," he said.