The short shelf life of a royal wedding souvenir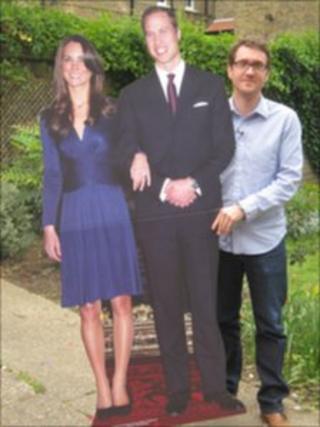 It's thought the royal couple will have given retailers a very welcome wedding present - £26m of extra merchandise sales, ranging from high end to pure tat.
Tesco alone reckons it will have sold enough bunting to go around Westminster Abbey 100 times.
Marks and Spencer said sales of its commemorative crockery were growing by 100% every week.
But they and many other shops also grabbed the chance to take a slightly quirky approach.
Funky and irreverent
For example, B&Q sold a pair of gnomes decked out in wedding outfits, complete with union jack decorations, while the Early Learning Centre produced a set of Royal Family dolls, complete with a corgi.
Beauty retailers got in on the act too; Nails Inc sold a set of nail varnishes named after Kate and William.
Online store Firebox sold a whole range of souvenirs - everything from a life-sized cutout of the couple to a Princess Catherine doll.
The company's head of marketing, Pete Danks, says the royal wedding has boosted business: "The royal wedding has never been so cool. We've completely sold out of the cutouts and the Princess Catherine doll has been consistently in our top 10 for the last four weeks.
"We tried to mix the funky and irreverent with the practical. So we've got more collectible items too, like mugs and tea towels."
He says customers in the south-east of England ordered more royal wedding memorabilia than other parts of the country, while the north-east bought the lowest amount of subversive memorabilia.
Supermarkets and department stores say royal wedding lines did well and should sell out. But many have widened the focus out from the couple.
That explains all the merchandise featuring union jacks. The idea is they will not date as quickly, and could still look good for the Olympics and the Queen's Diamond Jubilee next year.
'Throne Up' sickbags
Artist Lydia Leith heard people complain they were "sick of the royal wedding", and designed special "Throne Up" sickbags. She thought she might possibly sell as many as 200. She stopped counting once she got to 7,000.
Other designers sold everything from limited edition prints, to posh tea towels and badges.
Artist Glyn West made two sets of prints, in a limited edition of 50. He sold them on website Etsy and says most were bought by Americans.
Etsy says many of its suppliers make products to order, so it will not be left with too much spare stock now. But anyone who still fancies buying a souvenir of the wedding could pick up a bargain.
Discount chain 99p Stores gets about 20% of its stock as clearance from other retailers.
Hussein Lalani, 99p Stores' commercial director, says: "I'm already getting offers on other companies' leftover royal wedding stock. The type of stuff I imagine people are going to want to buy is the memorabilia that people will want to keep to remember their special day by.
"The stuff that's not going to sell so well will be party wear. I guess the party's over now really, isn't it?"
But if you think your souvenirs will one day be collectors' items that you will be able to sell on for a fortune, you might want to think again.
So many are mass-produced nowadays, you would generally need to go back to Queen Victoria's coronation before you made any real money.
Charles and Diana wedding souvenirs are still being sold on auction websites. There's everything from shot glasses with an asking price of 50p to a mug with no bidders - even priced at 99p.