Germany and France raise two-speed recovery concerns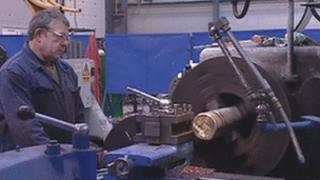 The economies of Germany and France powered ahead in April, with their manufacturing sectors continuing their strong recovery, according to new data.
The closely-watched Markit purchasing managers index showed that Germany's factory activity expanded for a 19th consecutive month in April.
In France, industrial activity expanded at its fastest rate in five months.
But growth slowed in Spain and Italy, raising fears about a two-speed recovery in the eurozone bloc.
Markit's latest index, which covers manufacturing across the eurozone, rose to 58 points last month, from 57.5 in March.
Any reading above 50 indicates expansion.
But the bounce was once again driven by Germany and France, whose growth overshadowed continued weakness in other parts of the eurozone.
For Germany, Markit's manufacturing index rose to 62 points from 60.9 in March.
For France, the reading came in at 57.5 for April, against 55.4 in the month before.
But other main eurozone economies did not do as well, with Italy falling to 55.5 from 56.2, Spain down to 50.6 from 51.6, and Greece at 46.8 points, up from 45.4.
Chris Williamson, economist at Markit, said eurozone-wide manufacturing growth for the first four months of 2011 was the best since the dotcom boom of 2000.
But he added: "The two disappointments were the near-record increase in manufacturers' selling prices, which will fuel inflationary concerns among policymakers, and the growing divergence between the performances of the core and periphery."