William Hill to buy US betting firm Brandywine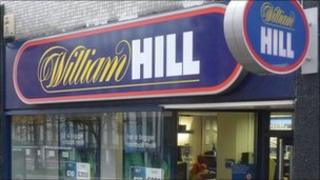 UK bookmaker William Hill is to buy US betting company Brandywine Bookmaking as it seeks to establish itself in the US sports betting market.
William Hill will pay $14.25m (£8.65m) in cash for Brandywine, which operates in Nevada and Delaware.
Sports betting is legal under federal law in only four US states - Nevada, Delaware, Montana and Oregon.
Nevada has the largest market, with an estimated turnover of $2.7bn in 2010, William Hill said.
The British company will also provide a $1.4m convertible loan as part of the deal.
Brandywine recorded revenues of $7.7m last year.
The announcement comes weeks after William Hill made its first move into the US market.
Last month, it said it was buying American Wagering Inc (AWI) and Club Cal Neva Satellite Race and Sportsbook Division for a total of $39m.
"Brandywine is a good strategic fit for AWI's and Cal Neva's sportsbook operations and will give William Hill a leading position in the US land-based sports betting market," said Ralph Topping, William Hill chief executive.
The US banned online gambling in 2006.
The acquisitions of Brandywine, AWI and Cal Neva's sportsbook division are all expected to complete in 2012, after finalising the licensing process.