Sanctions are strangling us says a leading Libyan rebel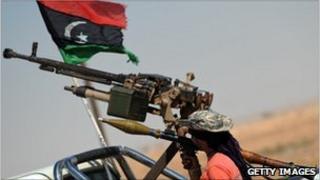 Western governments are "strangling" the rebel movement in Libya, by failing to provide funds to opponents of Colonel Muammar Gaddafi, according to a leading dissident.
Dr Ali Tarhouni is head of the finance office in the interim government set up by the rebels' Transitional National Council in north-eastern Libya.
He worked as an economist in the United States, having fled Libya in the 1970s.
But returned during the recent uprising to raise money for the opposition.
Desperate times
His methods are certainly unconventional.
He says he raised $200m (£124m) by tunnelling into a locked branch of the central bank in Benghazi and removing the cash stored inside.
But now, he says, the rebels are desperately short of funds.
"Keep in mind that the same sanctions that Colonel Gaddafi is subject to, we are subject to" he told the BBC's World Business Report.
"Our banking system is frozen, our assets are frozen. We have no access to liquidity," he says.
"This is a dire situation, we are in a war, but so far I have been unsuccessful in convincing our friends to help us out."
Painfully slow
Earlier this month, at an international gathering in Rome, officials from more than 20 countries agreed to provide funding to the rebels.
But so far, according to Dr Tarhouni, the cash simply has not arrived.
"We have a mechanism agreed on in Rome, with all the transparency, all the safeguards. Everybody's signed it," he notes.
"I do have a trust now. The problem is, there's no money in it".
Dr Tarhouni says he has no idea why western governments are apparently dragging their feet.
"It's very frustrating. People are dying. I try to explain that to everybody. They need to answer that question, because at the end of the day, they're strangling us.".
Priorities
Although he is appreciative of the political support his movement is getting, he maintains: "At the end of the day these fighters, these people need to eat, they need medicine.
"I'm not even talking about arms. I'm talking about the basic things, but so far I haven't been able to convince anybody that we need access to funds to take care of these things."
The rebels do still control a large proportion of Libya's oil producing territory and infrastructure, a potentially lucrative source of revenue.
In April, amid great fanfare, an oil tanker was loaded in the port of Tobruk.
That shipment raised $100 million for the rebels.
But Dr Tarhouni insists that was just a drop in the ocean.
"I have a budget of about $3bn for the next six months," he says. "So having an extra $100 million isn't going to do a lot.
In any case, he insists that as the conflict continues further shipments are unlikely.
"My goal now is just to keep the installations, protect the oil fields and protect the workers", he says.