Olympic lottery fears as tickets are allocated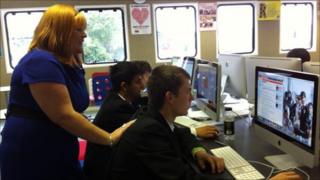 The 1.8 million people who applied for Olympic tickets should keep an eye on their bank balance or credit card bill over the next few weeks.
The 2012 bosses have promised to let applicants know if they have been successful getting tickets by 24 June.
However, they will start taking payments from bank accounts in the next few weeks.
Applicants will not be told in advance exactly how much they will be charged, or exactly when the money will go out.
All they have been told is that it will be sometime before 10 June.
Complicated system
The deadline to apply for tickets was 26 April, and the date approached, London 2012 chief executive Paul Deighton said that a last-minute scramble to get tickets had "hit the roof".
Anyone who wanted to attend the games had to pick the events they favoured, as well as the price bracket they wanted to be in - ranging from £20 to £2,012.
Already, more than half of the 650 events have been oversubscribed.
Many people applied for several events, hoping to boost their chances of actually getting tickets.
Personal finance expert Sarah Pennells, from the website savvywoman.co.uk, said the system was too complicated.
"I think it's very difficult for consumers, because it's not the way we're used to doing our shopping," she said.
"If you make a regular payment, like a direct debit, you generally know, to within a few days, when the money is leaving your account.
"You also know roughly how much the company is taking."
Under the rules, anyone who over-bids for tickets has no right to cancel.
And once the tickets have been applied for, they must be paid for.
If someone who does not have enough money in their account to pay for the tickets, organisers will contact them and give them another chance to pay.
After that, they lose the tickets.
Olympic organisers Locog deny their payment system is complicated.
Said a spokesman: "We have been clear throughout about the timings around when money would start to leave accounts and when notification would be given around allocation of tickets."
"We also advised people to plan which events they wanted to see and to set a budget before making the application."
Fingers crossed
Teacher Letty Heppell is waiting to see if she has been lucky or not, and says she is both "massively excited, and hugely scared".
Together with her boyfriend George, she has applied for almost £2,000-worth of tickets.
Letty cannot quite remember everything on the list, but it includes the Opening Ceremony, the men's 100m finals, the women's football finals, men's football finals, canoeing, sailing medal races, the cycling finals, and swimming.
But she is crossing her fingers that she and her boyfriend do not get all the tickets they applied for.
She thinks they could comfortably manage about £1000-worth of tickets - so long she cuts back her spending on other things over the next few months.
She said: "We can't afford to spend that much money. However, it's a once in a lifetime opportunity, so we had to take the risk."
'Better ways'
Letty has an added complication - she needed to use her Visa debit card to finance her ticket purchase, which means she must ensure there is enough money in her current account to pay for the tickets she is allocated.
She has been forced to transfer savings earmarked for home improvement into her current account - just in case she gets every ticket she applied for.
And she is puzzled why the 2012 organisers did not opt to warn ticket purchasers in advance on how much money would be leaving their accounts.
"I think there are a million and one better ways they could have done it," she said.
If Letty, or anyone else, does end up with too many tickets, they will find it illegal to sell them on the open market.
Instead, they will have to wait until the official Olympics resale site is up and running.
And because that will not happen until early next year, purchasers will have to wait several months before they can try to get their money back.
Even then, there's no guarantee anyone will buy their tickets.