House prices 'fell 1.4% in April' the Halifax says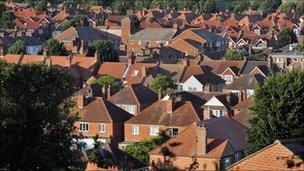 Weak household confidence led UK house prices to fall by 1.4% in April compared with March, the Halifax has said.
The lender, now part of Lloyds Banking Group, said the latest figures showed that property values were continuing a trend of "modest decline".
Prices fell by 3.7% compared with a year ago, with the average home now costing £160,395.
In the three months to April, prices were 1.2% down on the previous quarter.
"Weak confidence amongst households, partly due to uncertainty over the economic outlook, is constraining housing demand and resulting in some downward movement in prices," said Martin Ellis, Halifax housing economist.
"The latest figures show that the underlying trend in house prices continues to be one of modest decline."
However, he said low mortgage rates and an increase in the number of people with jobs were likely to curb the pace of house price decline.
"There are signs that house sales are stabilising albeit at a level lower than the historical average," he added.
The data, which showed the the biggest annual decline since October 2009, is slightly more negative than that offered by the rival Nationwide Building Society.
The year-on-year comparison is calculated slightly differently by the two lenders. If Halifax were to calculate a direct comparison between April 2011 and April 2010, it would show a fall of 4.9%. Instead it compares the previous three months with the same three months a year earlier to give a smoother comparison.
The Nationwide said that prices had been "fairly static" over the past six months, with values rising in three and falling in three of the last six months.
However, figures from the Land Registry, widely regarded as the most comprehensive of house price statistics, showed that prices were 2.3% lower in March than a year earlier.
The figures, which lag slightly compared with other surveys, revealed that over the past year in England and Wales, only London had seen prices rise.
"It is clear that critical to the development of house prices over the coming months will be the amount of houses coming on to the market, mortgage availability, how well the economy and jobs hold up as the fiscal squeeze increasingly kicks in, and what happens with interest rates," said Howard Archer, chief UK and European economist at IHS Global Insight.
Related Internet Links
The BBC is not responsible for the content of external sites.