European Union plays for time over Greece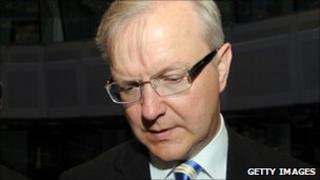 Talk of a new rescue package for debt-laden Greece is "premature", according to European Union economic affairs commissioner Olli Rehn.
"It is precisely the task of our EU mission now in Athens to specify... the needs for next year," he said, with a decision following in the coming weeks.
Speculation has risen that Greece will need new rescue loans even before the current ones expire in 2012-13.
Mr Rehn also spoke out against punitive interest rates for rescued countries.
"In my view, for good reasons, the focus of the interest rate should be less related to so-called moral hazard, and essentially related to debt sustainability," he said, talking up the prospect for an interest rate cut on the Republic of Ireland's existing rescue loans.
"The moral hazard problem is tackled by rigorous conditionality of the programme and I don't see that any leader of an EU member state would voluntarily want to be in an EU/IMF programme."
The "moral hazard" argument - associated closely with Germany - is that borrowers should pay a high interest rate in order to encourage them to put their finances in order.
More austerity
However, many economists and private sector lenders believe the debtloads of Greece and other heavily indebted eurozone members are unrepayable, something that a high interest rate on rescue loans will simply worsen.
Greece's current two-year cost of borrowing in bond markets is 25% a year, indicating that private sector lenders believe some kind of debt default by the country is imminent.
For Portugal and the Republic of Ireland, it is well over 10% a year.
Any decision by the EU to extend loans to Portugal, or to change the terms of the Greek and Irish bail-outs, will require unanimous support.
A mission of technical experts from the EU and the International Monetary Fund (IMF) is currently in Greece, and will need to report back to Brussels before a decision can be made.
According to an anonymous European official cited by the Associated Press, the Greek government will be offered more financial assistance, but only in return for even tougher austerity and economic reforms.
Meanwhile, Mr Rehn said that the interest rate on Portugal's requested bail-out loans would be "somewhere in the scale of over 5.5%, but clearly below 6%".
Portugal is expected to get 78bn euros of loans, of which 50bn euros will be from the EU, and the rest from the IMF.
The IMF has already said it will only charge 3.25%-4.25% on its loans.
The Irish Republic is currently paying an average rate of 5.8% on its EU and IMF rescue package - prompting the new Taioseach, Enda Kenny, to demand a reduction.
Mr Rehn said he expected an agreement on Dublin's interest rate to be reached "shortly".