HSBC plans up to £2bn in savings as it cuts retail arm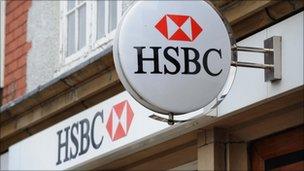 HSBC, Europe's biggest bank, wants to save up to $3.5bn (£2bn; 2.4bn euros) by cutting the scale of its wealth management and retail divisions.
The bank is also streamlining IT operations and the operational structure, though no figures were given for the number of job cuts.
HSBC disclosed the plans on Wednesday ahead of a meeting with key investors.
The bank's problems were revealed on Monday after a big rise in costs held back profits.
The proportion of revenue spent on operational costs was 61% in the first quarter, and HSBC said it wanted to reduce this to 48%-52% by 2013.
HSBC said in a statement that it would now focus its wealth management business on 18 key economies, and limit retail banking to markets where it can achieve profitable scale.
The bank said it would be directing investment into fast-growing national economies including Mexico and Turkey, and to certain wider regions, such as Asia and the Middle East.
One country from which it said it would be withdrawing its retail banking operations is Russia.
HSBC is also reviewing its credit card business in the US, which analysts at Barclays capital have said could be worth $25bn if sold. HSBC is also reviewing its US branch network.
Stuart Gulliver, HSBC chief executive, said: "We clearly have a cost problem," adding that the bank was facing "important challenges" and it would "dispose" of some business units.
"Our strategy is to be the leading international bank, concentrating on commercial and wholesale banking in globally connected markets," he added.
"This is not about shrinking the business but about creating capacity to re-invest in growth markets."
The markets seemed unimpressed with HSBC's announcement. Shares in the firm were down 0.8% or 5.1 pence at 651.10p in morning trading in London.
Banking analyst John Smith of wealth management firm Brown Shipley said: "Half of the statement stated things they should be doing anyway".
This view was echoed by Simon Maughan of MF Global, who said: "What is radical for HSBC is just not that radical for outsiders looking in."
The bank currently operates in 87 markets and employs more than 287,000 people. It has 95 million customers.
Related Internet Links
The BBC is not responsible for the content of external sites.