Yahoo shares fall on China move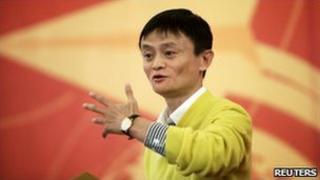 Shares in Yahoo fell by 7% in New York, the biggest drop in a year, and have continued to fall in after-hours trade.
The fall in the share price came after Yahoo's Chinese partner, Jack Ma, took back a key asset, called Alipay from his own Alibaba Group.
Yahoo had controlled Alipay indirectly through its 43% stake in Alibaba, which was founded by Mr Ma.
Alipay, used to process online payments, is being restructured into a separate company controlled by Mr Ma.
Yahoo said Alipay was required to get a licence from China's central bank, and that this restructuring would speed up that process.
But investors believe the move by Mr Ma may spell trouble for Yahoo in the future.
An Alibaba spokesman was not available for comment.
Valuable assets
Yahoo is highly valued by investors because of its stake in the Alibaba Group, a privately-held company that is believed to be one of the world's most valuable internet conglomerates.
The group controls several businesses, including Taobao, China's biggest online shopping site.
Taobao Mall hosts 30,000 online stores, and about 53,000 items are sold there every minute.
But the Alipay transaction raises fears among Yahoo's investors that Mr Ma may spin off Taobao in future, putting it effectively out of Yahoo's reach.
"It's not a secret that Jack Ma has been trying to negotiate a way to reduce Yahoo's stake," said Eric Jackson of Ironfire Capital.
"I would anticipate a lot of feverish discussions in the background between these parties."
Yahoo invested $1bn in Alibaba in 2005.