BT profits rise after year of change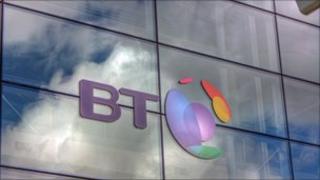 Profits at telecoms group BT have jumped 71% after a year of job cuts, restructuring, and an aggressive roll-out of broadband operations.
Pre-tax profits in the year to 31 March were £1.7bn, and in the fourth quarter alone rose 97% to £495m.
This came despite revenues for the year falling 4% to £20bn, and 6% in the last quarter to £5bn.
Chief executive Ian Livingston said: "We have delivered profits and free cash flow ahead of expectations."
Higher profits at BT's international and broadband operations offset broadly flat earnings in the traditional landline division.
Mr Livingston hailed the roll-out of BT's super-fast broadband service as "one of the most rapid in the world, passing an average of 80,000 additional premises each week".
In recent years BT has made billions of pounds of cost-cuts and shed thousands of jobs as it sought to compete against growing international competition and the boom in new media.
But the company said the £1.1bn of cost savings made in the past 12 months were achieved without the large job losses of recent years.
"In summary, BT is much fitter than it was two years ago and is on a path to growth," the company said.