BA strike: Airline and union agree to end dispute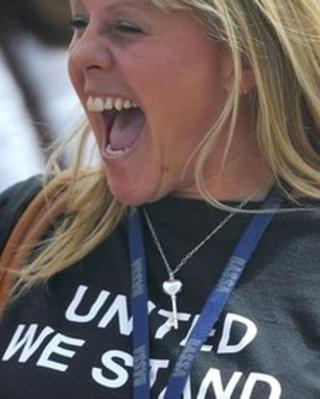 British Airways and the Unite union have reached an agreement to settle their long-running industrial dispute.
The union said BA had agreed to restore travel concessions to staff who went on strike and award a two-year pay deal worth up to 7.5%.
Pay and perks were at the centre of the bitter dispute which has lasted for almost two years and involved 22 days of strikes.
The agreement will now be put to a ballot of about 10,000 union members.
Under the pay deal, staff will get up to a 4% rise this year and 3.5% next year. The awards are linked to proposed productivity changes, but the exact details are not known at this stage.
Unite general secretary Len McCluskey said the union would be making a "strong recommendation" that members accept what he believes is an "honourable agreement".
"We always said that this dispute could only be settled by negotiation, not by confrontation or litigation. And so it has proved," he said. "I am particularly pleased that travel concessions will be restored."
He said he was "very confident" that union members would vote to accept the agreement.
BA said: "On behalf of our customers, we are very pleased the threat of industrial action has been lifted and that we have reached a point where we can put this dispute behind us.
"Our agreement with Unite involves acknowledgement by the union that the cost-saving structural changes we have made in cabin crew operations are permanent.
"We have also agreed changes that will modernise our crew industrial relations and help ensure that this kind of dispute cannot occur again," the airline said.
During the long-running dispute dozens of BA workers were sacked or disciplined. Mr McCluskey said their cases would go before the arbitration service Acas, with the body's ruling binding.
'Brave steps'
Hundreds of union members met in west London to hear details of the deal and voted that the latest offer should be put to a full ballot.
One representative at the meeting, Duncan Holley, said there had been a "wind of change" at BA under new chief executive, Keith Williams.
Mr Holley, who was one of those sacked by the airline during the dispute, said the airline had taken some "brave steps", and the union should match those brave steps.
A recent change of leadership at both British Airways and Unite was seen to have given fresh impetus to a desire to reach agreement.
Former British Airways chief executive Willie Walsh, who became the focus of the anger of many union members during the dispute, moved into a new position earlier this year.
He is now head of the company formed by the merger of BA and the Spanish carrier Iberia, International Airlines Group, and was succeeded by Mr Williams.
At Unite, Mr McCluskey succeeded former joint general secretaries Tony Woodley and Derek Simpson.
Len McCluskey praised Mr Williams for being "strong, brave and courageous" in reaching the agreement.
He declined to discuss whether a deal could have been reached under Mr Walsh, and said: "I met Keith Williams privately on a number of occasions. I was convinced that he wanted an honourable negotiated settlement."
The union boss admitted that the "very bitter dispute" had damaged the BA brand, but said: "We look forward to working with the company to repair any wounds."
The dispute began in 2009 over cost cutting but became bogged down over the loss of travel perks to striking staff and the dismissal of some employees who joined the industrial action.
The strikes have resulted in travel chaos for hundreds of thousands of passengers and the bill for the disruption caused to BA has been estimated to be £150m.