Motor racing dominates sport's rich list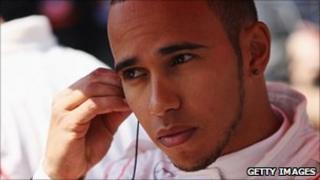 Seven of the 11 wealthiest sportspeople in the UK and Irish Republic are current and former racing drivers, the Sunday Times sport rich list suggests.
Lewis Hamilton (£50m) joined names like Johnny Dumfries (£110m) and Eddie Irvine (£80m) towards the top of list.
Mr Hamilton saw his wealth grow by £15m in the past year.
But the top two places stayed with Wigan chairman Dave Whelan (£190m) and David Beckham (£135m). No women earned enough to make the top 100.
Boxer Lennox Lewis (£95m) and former rugby union player Sir Tony O'Reilly were the only other non-racers in the top 11, which saw three men tied in ninth spot.
Another big climber was Wayne Rooney, whose fortune increased by £4m to £37m, placing him in 17th place alongside England manager Fabio Capello.
Others who saw their wealth increase sharply in the past year include Fran Cotton and Steve Smith (both £28m), former rugby players and owners of the Cotton Traders sportswear company, and golfers Colin Montgomerie (£25m) and Luke Donald (£19m).
Out of the top 100 richest sportspeople, 51 are associated with football, 14 with motor racing and 11 with golf.