BAE Systems fined again by US authorities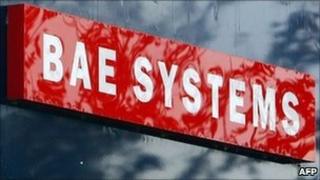 BAE Systems has agreed to pay up to $79m (£49m) to the US State Department for violating military export rules.
It follows BAE's 2010 settlement with the Department of Justice, when it paid over £250m after conspiring to make false statements to the US government.
The original case was about BAE making secret payments and giving free holidays to help it win contracts.
It followed investigations into deals with Saudi Arabia, Tanzania, Sweden, the Czech Republic and Hungary.
At the time, the Department of Justice gave a damning condemnation of BAE, which it said had accepted "intentionally failing to put appropriate, anti-bribery preventative measures in place", despite telling the US government that these steps had been taken.
The latest fine is payable over three years and can be reduced by $10m if the firm spends that amount on improving its compliance with export controls.
In a statement, BAE chairman Dick Olver said: "The company looks forward to working with the State Department to ensure that it continues to make progress towards achieving its goal as being as widely recognised for responsible conduct as it is for high quality products and advanced technologies."