Land 'scams' techniques revealed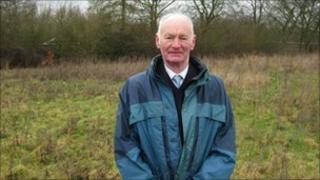 The strategies used by a landbanking brokerage to sell strips of land to unwary investors have been outlined to the BBC by a former employee.
The man worked for the Property Partnership, which sold virtually worthless plots across the UK.
Many were persuaded to pay tens of thousands of pounds for land that is unlikely ever to be built on.
The firm, believed to be ultimately controlled by Kent businessman Scott Assemakis, is now in liquidation.
Pressure selling
William McNaught, from Yorkshire, was contacted by the Property Partnership three years ago, and persuaded to pay £101,000 in order to buy eight strips of land in different locations around the UK.
He said he was taken in by the high returns that were promised.
"They were so convincing. The broker told me the investment would achieve a profit of 100-130% in a period of 12 to 18 months," he said.
Radio 4's Money Box has investigated a strip of land Mr McNaught bought from the Property Partnership near Towcester in Northamptonshire for £10,000 in September 2009. A local estate agent now values the land at just £75.
Recruitment tactics
"Gareth", whose name has been changed, worked for the firm for three months in 2007, after being recruited while he was working as a salesman in Spain. He told Money Box brokers were tempted with huge rewards.
"You are told that if you just stick with the company for 12 months they guarantee you will be a millionaire. It was very easy for me to go with them," he said.
Gareth sold plots of land to eight clients, charging them £10,000 for each. He said the brokers were given scripts to persuade people to part with their cash.
"We were told to lie. The scripts were pretty much 100% lies. The top brokers were given free will to go off the script and all manner of promises were made there," he said.
"As long as that cheque came in, then the management were not bothered."
Big returns
Gareth said they were told to offer the prospect of fantastic profits to their clients.
"We were saying that to make 100% on top of your investment should be the very least that we are looking at," he said.
Gareth and other credible sources Money Box has spoken to say the Property Partnership was run by Scott Assemakis.
"It was well known, told from other managers, told from other brokers, it was just common knowledge," said Gareth.
After three months Gareth left the firm as he was unhappy about how the firm was treating its clients and warned the police about its activities.
"Guilt was heavily upon my shoulders. I knew I had to get out," he said.
Shareholders in the Property Partnership have been keen to hide their identity. The shares for the parent company - known as Ultraclass - are held anonymously by a third party. Only a court order or demand from the police or the regulator can reveal who the real owner is.
Money Box investigated the Property Partnership in March. The firm was put into liquidation in April.
The documents held at Companies House concerning the liquidation confirm that Mr Assemakis had a major interest in the firm: they show him as the individual owed most money by the Property Partnership, over £53,000.
Similar operations
Money Box understands Mr Assemakis has also sold land through another company called Burnhill Land Investments Limited, and is involved with a third company which has just been launched to do the same thing, called Complete Building Systems Limited.
The similarities between the Complete Buildings Systems Limited website and the websites for the Property Partnership and Burnhill Land Investments Limited are striking.
Money Box invited Mr Assemakis to comment but he did not respond to the programme's requests.
The Financial Services Authority (FSA) said it had closed down five land investment schemes in the past year, in which £42m had been invested. However it can only act if it is able to prove that a firm is effectively running a collective investment scheme in which it promises to liaise with potential developers on behalf of clients.
Jonathan Phelan, head of unauthorised business at the FSA, told Money Box in March that his organisation was doing its best to clamp down on the problem.
"Where you have a collective investment scheme, we can get involved. We would estimate it to be around a £200m problem. We have got 20 firms under inquiry," he said.
He urged anyone who believed they had been a victim to come forward.
"Please, do come to us because there are a dozen, a hundred, a thousand people who are going to come after you and lose similar amounts of money. We really need you to tell us," he said.
Mr Assemakis's firm The Property Partnership should not be confused with the Surrey based building services firm Land Investments UK Ltd trading as The Property Partnership.
On and off for a year or two I was contacted between 2008 and 2009 by a company called The Property Partnership. Always a withheld number, and a similar line from each caller asking whether I'd receive the info pack they had sent me. Despite explaining that I had no interest, and asking them to remove my contact details I was called regularly.One of the last times I was called it just happened I was on the motorway with my hands free kit, so I thought that if I wasted their time chatting, but going nowhere then maybe that would stop the calls.
The young lady on the phone appeared new to her role, after talking for a bit she asked me whether I held shares in UK quoted public companies.I assume this is where they get details from, so they can home in on people with equity and an appetite for investment.In my view it comes down to the classic saying "if it's too good to be true, it probably is". If one had 100% return deals on the table you wouldn't be paying people to cold call and sell them to others!
John, Swindon
I was contacted by Burnhill Land Investments in 2010. I asked them for written details which they sent in the form of a glossy brochure which did not say very much. Whist waiting for it to arrive I looked the company up at Companies House which looked dodgy as that appeared to be a name change from a scrap metal dealer! I also contacted the Royal Institute of Chartered Surveyors who stated that very few of these schemes ever made any money as it was extremely speculative relying on planning permission that might not come. When the rep called back I explained to him what I had found and he put the phone down and I never heard from them again.
Tony, Hants
My father has invested £120 000 with The Property Partnership. He is 88 and suffers from a cognitive disorder. He is currently being bombarded with other companies to spend more. I have now just received the power of attorney but it is very difficult to stop him being approached.
W.G
I was contacted around November 2010 by phone asked if I'd ever thought about investing in land. I said I already had and they sent me a Burnhill brochure (I still have it) This led to them phoning me several times and I sort of led them on a bit as it seemed "too good to be true". Lots of pressure later I said I'd make enquiries locally through a family friend and the salesman became extremely rude and abusive and slammed the phone down! I was then 100% sure it was a con and am pleased my judgement was sound.
Roger , Gosport
I bought land from The Property Parternship in 2007 and paid £10,000 I was recently contacted by them again asking for another £6000. I was told they had a buyer for the land but had to purchase extra land for the exit to the site. I paid. They sent me a receipt and land registry docs. All seemed above board. What an idiot!
Pauline, Mansfield
Bought a plot in Rubery, Worcestershire for £10k with promises of 3-500% returns. Aggressive sales techniques but it was believable at the the time. I also think in hindsight the solicitor who made the transaction should also be investigated as an 'accessory.' He may not have done anything illegal but certainly not very moral.
Ian, Bristol
I was approached by a company called Burnhill Land Investments some months ago. They sent me information about land in Royal Tunbridge Wells, all of which looked genuine and I was pesuaded to invest. I was later approached to invest in land in Hounslow at a higher cost. When I said I could not afford to invest in both sites they offered to buy back the Tunbridge Wells land if I would add to it to buy the land in Hounslow, which according to the information they gave would get full planning permission more quickly than the land in Tunbridge Wells. I eventually agreed to make the additional investment. Appropriate paperwork has come from them and from their solicitors. Everything looked ok but now, hearing what Moneybox has to say I am very concerned and will be contacting the FSA as soon as their offices reopen on Monday.
Tony, Newcastle
Sheer greed has motivated all parties and I have no sympathy for investors who were chasing the dragon - in this case money. Why were the investors so dumb as not to get an independent valuer in to value the land? Oh yes one simple answer no doubt they were told buy now or someone else will and so their greed drove them to buy. Sorry if these people really were so greedy to believe that money is so easy come then they deserve what they get and after all they still have their strips of land so why not do something with them like grow some trees and help the wildlife and the environment instead of whinging about what is their own stupidity! I would respect any of them who did choose to grow trees or plant a wildflower area or even if they were allowed build a pay area for children.
Denice, London
I was contacted by a company around about 2006. I believe it was called The Property Partnership. The salesman was very persuasive. I actually argued with him on the phone that I was happy with the strategy I had at the moment and having researched the property market I suggested that he wouldn't be in a job in the next few years. Then I left it at that. The salesman contacted me on a number of occassions which made it a bit of a niusance.
Peter, Whitehaven
In our village we have experienced a couple of these land bank style sales. Fortunately our District Council who are the planning authority have acted quickly and endured restriction notices have been placed on the land. However not to be outdone the landbankers are marketing the propreties in the overseas markets with specific advice on their websites to the effect that the land cannot be marketed to UK or USA clients. So some misguided expat will no doubt see the potential in investing for his pension in one of these scams - at the same causing a fair degree of grief to the community.
Peter, Charlwood
I was sold land in Bucks and in East Sussex by a landbanking firm approx 5 years ago and one particular point I remembered was that they said they would organise the sale of the land after all the plots have been sold. The plots of land in E. Sussex have been sold. I recently called the mobile number advertised on their website and gentleman who answered stated that I would have to call the council myself and to seek planning permission. I said to him how would I know when all the plots of land were going to be sold in a collective scheme. He seemed to be a bit evasive or he just didn't seem to be in a position or have knowledge about the business he was in.
Anthony, London
One of my friends worked for a while for one of these companies, he was promised constant big pay rises. He was naive and worked there for 7 months before the firm was shut down. He made good money, but I knew there was something weird about the whole siutation. He is now in Cyprus working for a similar company selling carbon credit. Very weird again. People get roped into the idea of making alot of money, quickly and easily. Especially those with few qualifications,like my friend.
Jordan, Surrey
I was called and offered building land in Bedfordshire, they claimed I had requested information in the past and did I want an info pack, I said yes, they asked for my date of birth I refused. I read the literature it was clearly not building land and no planning permission was mentioned on the paperwork anywhere. I emailed back saying don't contact me. I was then phoned by someone else who said that the previous broker was unprofessional, I said I wasn't interested he asked why not, I refused and he became abusive, so I told him where to go and hung up. He rang back but I didn't respond. Luckily I am quite an experienced investor, clearly a lot of poor victims were not.
Vincent, Richmond
I have an awful feeling that I have been duped under similar circumstances with a company operating along the same lines. I invested 11,000 in a plot of land in Leicestershire, I fear its value is also zero now after reading your report. It was all I had left out of a painful divorce and now it seems I have lost any hope of redeeming my so called investment. I am on incapacity benefit only presently and would have been better off putting it under my mattress.
Darren, Strood
I moved down to London to work for one of these companies and within a couple of weeks the offices were raided and as I understand it several people arrested. I have a list as long as my arm of disgusting practices used by these companies.
Mark, Glasgow
I was contacted by a similar company and was offered an investment offer on land. In the end I declined and after reading the report I'm glad I did. I'd suggest that everyone should contact their solicitor before taking up any such offer.
Pete, Lichfield
These people can be a ruddy nuisance. Several years ago now I enquired for information on what I thought was a reasonable investment, however, purely through the "hard sell" approach I was immediately put off. Glossy, high quality brochures have been sent to me, emails and telephone calls have been made at "out-of-work" hours all to no available. You have to be strong and determined and simply say, 'No thank you'. Remember the old adage, "if it's too good to be true, it undoubtedly is"!! Thankfully I never parted with any cash despite "guarantees" of lucrative pay-backs. I've heard of some stories where planning permission hasn't been granted and in some instances where plans have not even been submitted. I have now no interest in these scams and welcome any moves to expose these cowboys.
David, Leicestershire
BBC Radio 4's Money Box is broadcast on Saturdays at 1200 GMT, and repeated on Sundays at 2100 BST.