Long-term unemployment hits high - IPPR think tank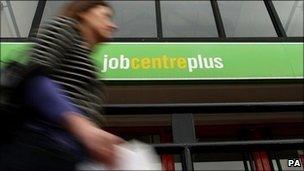 The number of people unemployed for more than a year has reached its highest level since 1997, according to a report.
The IPPR political think tank's analysis of official data suggested there were now 850,000 people who had been jobless for at least 12 months.
The total had been taken to "worryingly high" levels, the IPPR said.
The government said it was introducing schemes such as the Work Programme to try to tackle long-term unemployment.
The IPPR report said the rate of long-term unemployment began to rise sharply from the start of 2009, having fallen significantly during the late 1990s and the rest of the 2000s.
According to the report, the proportion of unemployed men out of work for more than a year increased from 25% (338,000) in 2009 to almost 40% (568,000).
The figure for women rose from 19% (169,000) in 2009 to 27% (282,000).
IPPR director Nick Pearce said: "Headline figures suggest that unemployment levels are stable, but these mask underlying trends.
"Many people are experiencing long spells of unemployment, and long-term unemployment is rising steeply.
"Being out of work for more than a year can have a scarring effect, making it harder to get a job as well as having a negative impact on one's health and well-being.
"The government's decision to abolish job guarantees for young people may leave a generation of young people scarred for many years to come."
Employment Minister Chris Grayling said long-term unemployment was a "real concern".
He described as "woefully inadequate" attempts to tackle the issue by the last government, and said the Work Programme which comes on stream next month would give people "tailored support designed around their needs to give them every possible chance of finding and keeping a job".
He said that "organisations will be paid to help people get into work and, more importantly, stay there.
"We're also introducing Universal Credit, which means people can no longer be financially better off on benefits than in work."
Related Internet Links
The BBC is not responsible for the content of external sites.