Osborne and Lloyds at odds over break-up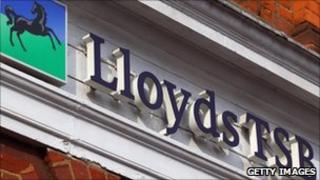 A Competition Commission investigation looks increasingly likely into whether Lloyds should be forced to sell more branches and assets than those that the European Commission has ordered to be sold.
The reason is that George Osborne is minded to accept the recommendation of the Independent Commission on Banking for a "substantially enhanced divestiture" by Lloyds - which the commission believes is essential in order to create an effective new competitor to the big five UK banks, Lloyds, Royal Bank of Scotland, Barclays, HSBC and Santander.
That Lloyds should beef up the assets it is selling was the one proposal for immediate action made by the independent commission in its interim report published last month. I have learned that the chancellor is set to side with the commission on this.
But the chief executive of Lloyds, Antonio Horta-Orsorio - with the full backing of Lloyds' board - is implacably opposed to selling "even one extra branch" on top of the 600 branches Lloyds is already being forced to sell, according to well-placed Lloyds sources. "Antonio is adamant that he is not going to budge on this", said one.
If neither Lloyds nor the chancellor backs down, significant uncertainty would be created for the entire banking industry, especially for state-controlled Royal Bank of Scotland - because the Independent Commission on Banking recommended that the competition authorities should in those circumstances be asked to conduct a market investigation of the entire personal and small-business banking markets in the UK.
In those circumstances, Royal Bank of Scotland would be fearful that it could be forced to dispose of additional assets, because its share of the small-business banking market will still be a fraction under 25%, even after it completes a disposal of 318 branches and other assets to Santander next year.
Mr Horta-Orsorio believes the Independent Commission on Banking has under-estimated the scale of what Lloyds is already being forced to sell. He sees it as the equivalent in size and market power of Abbey National, before that former building society was bought by Santander.
Under orders from the European Commission, Lloyds is selling a business with 4.6% of the UK current account market, somewhere between three million and five million customers, £65bn of mortgages, £5bn of other loans and investments, £25bn of deposits, plus the "TSB" brand.
"It is a chunky business" said a banker.
Lloyds has already initiated the sale process, with a view - according to bankers - to announcing the buyer in the autumn, although for regulatory reasons the sale won't complete till 2013. Lloyds yesterday announced that its managing director of consumer banking and payments, Paul Pester, would become chief executive of the business being sold, which goes by the code name of "Verde", and would oversee the disposal.
New to the big time
Bankers tell me that it is almost inevitable that National Australia Bank, which owns the Clydesdale and Yorkshire banks in the UK, will emerge as the buyer for all or part of Verde, partly because the UK's five biggest banks are prohibited from bidding for it by a stipulation of the European Commission.
The main reason cited by bankers for NAB to emerge as owner of all or part of Verde is that the smaller younger businesses that are planning to bid are at a massive regulatory disadvantage under the Basel rules, as interpreted by the Financial Services Authority.
According to a banker, if NBNK Investments - the AIM-listed business set up to buy a retail bank - or Virgin Money bought Verde, they would be obliged under FSA rules to put a risk-weighted value on Verde's loans and investments of around £25bn, because they would be given what's known as "standard" status by the FSA as relatively young and inexperienced players.
The FSA would force them to raise equity capital of around 15% to cover the risk of losses on these assets. Which means that they would need to raise capital of £3.75bn - and that would make the deal very expensive for them.
NAB by contrast would be given "advanced" status. The FSA would therefore allow NAB to put a risk-weighted value on Lloyds' assets of around £11bn and hold 10% equity capital in relation to those assets. So it would have to raise nearer £1bn in equity capital - a fraction of what NBNK or Virgin would have to raise.
Or to put it another way, the takeover of Verde would be massively cheaper for NAB than for the likes of NBNK or Virgin.
Here's the important point. The regulatory framework favours bigger, more experienced banks. Which may make sense from the point of view of the safety and security of depositors, but does make it incredibly difficult to bring new players into the market to stimulate competition.
My understanding is that Lloyds sees NAB as the only real bidder in town. That said, I have learned that NBNK is exploring whether it could form a partnership with NAB, which would see NAB inject its banks into NBNK and emerge with a big stake in the enlarged business.
To introduce competitive tension into the auction of Verde, Lloyds is also examining a flotation of Verde on the stock market as a possible option.
Lloyds and the Treasury believe it may be possible for the auction of Verde to continue, even if the Competition Commission is asked to conduct an investigation of the retail banking market (which, I have to say, I regard as slightly implausible).
Update 1020: Lloyds has sent me a clarification about its attitude to the disposal.
First it wishes to stress that it is the whole board which "is clear that Verde will be a strong and viable competitor as agreed with HM Government and the EU" - which is why "given the tight deadline", Lloyds is proceeding with the sale.
Or to put it another way, Mr Horta-Orsorio is fully supported by his colleagues in opposing any enlarged disposal.
Second, the bank is opposed to any kind of enlargement of the disposal. It is not just that Lloyds doesn't want to sell more branches; it does not wish to dispose of any extra assets, of any sort.