Greece default would hurt other countries, says Moody's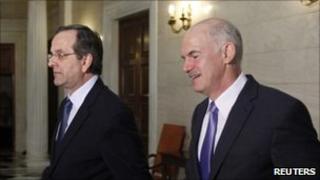 Any Greek debt default would likely hurt the credit rating of other peripheral eurozone countries, the ratings agency Moody's has warned.
In a statement on the impact of a potential default, Moody's said such a default would also hurt Greek banks.
Moody's also became the latest agency to say any kind of restructuring of Greek debt would constitute a default.
Meanwhile, the Greek opposition leader has rejected the government's request to support a four-year austerity plan.
The plan would lay out deficit reduction measures that go two years beyond the next general election.
Greece received a 110bn euro (£96bn; $155bn) bail-out from the European Union and International Monetary Fund last year.
'Wrong recipe'
Greece's European partners had demanded cross-party support for the plan after talks last week on possible further bail-out measures.
Antonis Samaras, leader of the New Democracy party, said he believed the austerity demanded by Brussels would hurt the country's economic recovery.
"I am not going to agree to this recipe, which has been proven wrong," said Mr Samaras after meeting Prime Minister George Papandreou.
The right-winger instead wants to cut taxes in order to stimulate an economic recovery.
"The government lacks the courage to restart the economy and is not considering a renegotiation," he added.
"It is repeating the same mistake, and exceeding the limits of the Greek economy and of our people."
The government has a majority in parliament and does not rely on opposition support for its current austerity budgets.
'Looting'
But Mr Papandreou faces even more opposition from the left.
The head of the Communist party, which is influential with trade unions, refused even to meet him, while Alexis Tsipras, leader of the Left Coalition party, called on him to resign.
"I didn't come to discuss the looting of Greek society with Mr Papandreou," said Mr Tsipras. "I came to tell him that he must not... go ahead with this crime against the Greek people."
Meanwhile, Greece's second biggest union Adedy, which represents civil servants, announced plans for a general 24-hour strike in June.
"This policy must stop now," the union said in a statement, referring to budget cuts including public pay cuts, civil service redundancies and an increase in VAT.
"These measures will bring down the living standards of small and medium classes by over 20%."
'Adverse implications'
There has been increasing speculation that Greece could be allowed to restructure its debt.
On Monday, the Luxembourg Prime Minister and head of the eurogroup, Jean-Claude Juncker, said that a restructuring would involve a delay in repayments and a cut in interest payments, but would only be granted if the Greek government met strict targets.
In its statement, Moody's said: "It is apparent that the longer the current state of uncertainty affecting Greece persists, the greater the temptation on the part of both the Greek and the euro area authorities to try to undertake some form of debt restructuring - in other words, to allow Greece to default.
"Moody's believes that a default is likely to have adverse credit rating implications for Greece, possibly some other stressed European sovereigns, and the Greek banks, regardless of the efforts made to achieve an 'orderly' outcome.
"The full impact on Europe's capital markets would be hard to predict and harder still to control. The fallout would have implications for the creditworthiness (and hence the ratings) of issuers across Europe."
Meanwhile, Greece's cost of borrowing in bond markets has continued to rise steadily, as expectations of an eventual default rise.
The yield on its 10-year bonds rose above 17% on Tuesday, up from 15.3% a week ago.