De La Rue to cut jobs as profits and revenues slide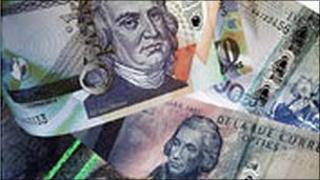 The new chief executive of De La Rue has said that job cuts at the UK banknote printer are "inevitable".
The comment by Tim Cobbold came as he revealed underlying profits fell 68% and revenues were down 17% last year.
Profits were hit by the suspension of a contract, said to be with the Indian central bank, due to production faults.
However, pre-tax profits - including exceptional items - fell only 25% to £73m thanks to a gain on the sale of its stake in lottery firm Camelot.
"I think inevitably there will be some job losses," said Mr Cobbold, as he laid out plans to achieve cost savings of £30m in each of the next three years.
The company has 4,000 employees globally.
Ultimate cost 'uncertain'
Cost control may be more difficult if the price of cotton - used to manufacture banknotes - continues to rise, the company warned.
Underlying profits fell to £33m for the year to 26 March, well short of the £100m profit target that Mr Cobbold has set for the company to achieve three years hence.
The hit to its profits was widely anticipated by the markets, with De La Rue's share price little changed after the results were announced.
In July, problems emerged at the firm's Overton printworks, with management claiming that some staff had faked paper test certificates for a contract with a key client.
The client is widely reported to be the Reserve Bank of India, though this has not been confirmed by either De La Rue or the central bank.
"Discussions remain ongoing with the principal customer concerned and the authorities, and therefore there remains uncertainty as to the ultimate outcome of these issues, including their financial impact," the company admitted.
De La Rue has already booked a £29m loss due to its failure as yet to fulfil the order, and production has still not restarted.