Clarity call for mobile and internet privacy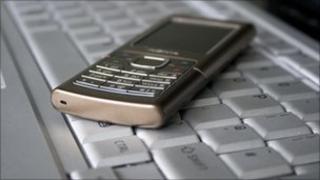 Businesses should be clearer about how they plan to share customers' personal data with other companies, a consumer body has said.
The growth in online transactions has allowed more businesses to collect information such as credit card details and shopping preferences.
The Communications Consumer Panel said that people should have control over which information is shared.
Such details should not be buried in the small print, the panel said.
"Companies should be able to explain how they protect people's privacy in a straightforward way that makes sense to consumers," said the panel's acting chairman, Bob Warner.
Data doubts
Consumers using their mobile phones can allow businesses to collect data about their location and the products and services they are interested in.
Some data can also be sold on to third parties to target the consumer with offers.
Mr Warner said that a lack of confidence in how private information was handled could curtail the development of new technology.
The panel, which was set up to advise communications regulator Ofcom about consumers' interests, wants more control for shoppers over their data.
It also called for more reassurance that companies were minimising the amount of data they collected and keeping it for no longer than was necessary.
Earlier this year, the Information Commissioner raised concerns over people's awareness of data privacy.
"It has never been more important to protect your personal information. Whether you are surfing the net, shopping online or signing up to social networking sites, it is crucial that people are thinking about how their information might be used," said Christopher Graham, the Information Commissioner.
"From employers looking up potential employees on Facebook to cyber-criminals hacking into unsecured wi-fi networks, not protecting your personal information can cause serious harm and distress."