Champions League final 'richest yet'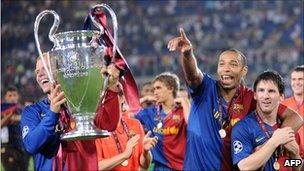 Winning the Uefa Champions League will be worth a record 126m euros (£109m; $178m) to the triumphant club, one of the competition's sponsors suggests.
Either Manchester United or Barcelona will net that sum by winning Saturday's final, according to Mastercard.
It comes as another sponsor, Heineken, has announced it has extended its contract with Uefa to sponsor the competition for a further three years.
It means its current deal will extend until the end of the 2014-15 season.
The Mastercard report, by Professor Simon Chadwick of the sport business unit at Coventry University, says that the losing club in the final is still set to gain 73m euros.
The final match alone is now worth an estimated 369m euros, a rise of 17.5m euros on last year and an increase of 59m euros compared with the last time Manchester United and Barcelona met in the 2009 final.
London, which is hosting the game at Wembley, is expected to benefit to the tune of 52m euros as fans spend money at the stadium, on accommodation, and on food and drink.
The report says the estimation that this year's final will break all economic records was in large part down to the two finalists.
"While the UEFA Champions League is a strong brand in its own right, the nature and strength of the brand is clearly heavily influenced by its constituent parts - the participating clubs," said Professor Chadwick.
"This year's UEFA Champions League final has the perfect ingredients to drive economic activity - Europe's two biggest clubs playing in a city such as London."
Related Internet Links
The BBC is not responsible for the content of external sites.