Yandex shares jump 50% on Nasdaq debut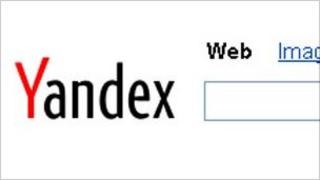 Shares in Yandex, Russia's largest search engine, have jumped by more than 50% on their first day of trading in New York, further evidence of investor appetite for internet stocks.
On the Nasdaq stock exchange, Yandex shares closed at $38.85, up from the initial price of $25.
The company raised $1.3bn (£800m) from its share offering on Monday, which valued it at about $8bn.
Last week, shares in business network site LinkedIn doubled on their debut.
"Yandex has picked a great time for an initial public offering for a tech company," said Anthony Moro at Bank of New York Mellon.
"For the longer term, they're in the right spot. They're the Google of Russia."
Russia is one of the few countries where Google is not the dominant search engine. Yandex holds 65% of the internet search market while Google has about 22%.
Investors are buying into the company as a bet on internet growth in Russia.