Philippines seeks balance with new wage allowance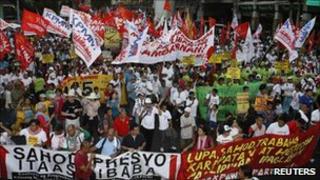 More than two million Filipinos should see a difference in their pay packets this month, after the authorities in Manila decided a cost-of-living allowance should be tacked on to the minimum wage.
From this Thursday, an extra 22 pesos ($0.50; £0.31) will be added to the standard 404-peso daily salary, in recognition of the rising price of food and other essentials in the capital.
Wage boards in the rest of the country are likely to adopt similar policies in the coming months.
But while the additional money will undoubtedly be welcomed, it falls far short of what many low-earners had been hoping for. Labour unions had lobbied for a 75-100 peso wage increase.
And unlike a rise in the minimum wage, the new allowance will apply only to basic earnings, not overtime or bonus pay.
'Hand to mouth'
It is not hard to see why people want more money - every month, Manila's low-wage earners are finding it increasingly difficult to make ends meet.
Evie owns a small roadside shop in San Roque, one of the poorer parts of Manila, and she has had to raise the price of many items.
"I used to sell large bottles of cooking oil for 1,100 pesos at the end of last year," she says. "I've had to put the price up to 1,500 pesos now."
She has also noticed a difference in the food choices people are making, including those of her own family.
"We're changing what we eat, trying to choose the cheapest type of food and eating less of everything else. It's become much harder to budget than it was before," she says.
The government knows that times are tough. Thousands marched on 1 May, Labour Day, to ask for higher wages in line with rising prices, and President Benigno Aquino vowed to listen seriously to their concerns.
But officials have to balance the demands of workers with those of businesses.
Danny Malliari runs a small T-shirt manufacturing company in the north of Manila.
He employs about 40 people, most of whom earn the minimum wage.
"I understand that my workers need more money, it's a hand to mouth existence for them. The current minimum wage is not enough," he says.
"But for small and medium-sized businesses, our profit margins keep shrinking. Here in the textile industry, the price of the fabric that I buy from China has doubled since last year.
"It's going to be difficult to pay even this extra 22 pesos," he adds, with visible concern.
Mr Malliari says he may even have to ask the government for a temporary exemption, which would allow him to pay his workers less than the minimum wage until business picks up.
"It's something I'm discussing with the staff at the moment," he says. "We all know each other, we've all worked here for a long time and the most important thing is that people don't lose their jobs."
If Mr Malliari's company is granted an exemption, it will join the 110 businesses who took a similar action last year.
Balancing act
As the director of the National Wages and Productivity Commission, Ciriaco Lagunzad III, explains, these exemptions are not ideal, but sometimes they are better than the alternative.
"No company should be exempt from paying the minimum wage, but if this would lead to lay-offs and possible closure of the entire business, then our policy is to preserve employment," he says.
But it seems that, in one way or another, many workers end up being paid less than the minimum wage.
According to Mr Lagunzad, those who are particularly vulnerable are young workers between the ages of 15 and 24, who often work for less money to gain experience, and staff working in private homes, whose earnings are not examined by the wages board.
Then there is the vast number of people working in the informal sector, selling items on the streets, offering transport on their tricycles or hoping for casual labouring work.
In fact in some areas, the average wage is actually thought to be lower than the national minimum wage, according to Mr Lagunzad.
In his view, this is an important reason why the legal minimum wage should be kept fairly low, to avoid pushing more people out of official employment into unofficial ways of earning a living.
"The higher the minimum wage, the greater the number of vulnerable workers are actually created," he says.
Employment concerns
Then there are those who are not employed at all.
Recent figures from polling company Social Weather Stations suggest there were 11.3 million unemployed Filipinos in March, up from 9.9 million in November last year.
It is no wonder so many Filipinos go abroad to find work. Currently more than 10% of the population is making a living overseas, contributing a vital 13% to the country's gross domestic product.
Most of them would dearly love to come home and the president has promised to try to create enough jobs to enable at least some of them to do so.
But his immediate priority must surely be to safeguard the jobs that already exist, while at the same time making sure that workers have enough to live on.
It is a delicate balancing act, and while neither workers nor employers are likely to completely satisfied with the extra 22 peso allowance, the government is hoping it has the balance right.