Immigrants key to US prosperity
By Caroline Hepker
Business reporter, BBC News, New York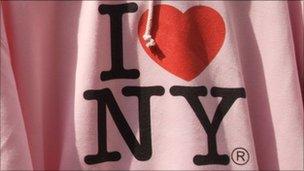 From Google to Warner Brothers, Goya Foods to Max Factor, immigrants in the US have created some impressive American businesses.
In fact, every census since 1880 shows newcomers to America are more likely than the locals to work for themselves and start a business.
In New York, companies shed 140,000 jobs during the recent recession, but many immigrant communities continued to create employment.
That is the case in Jackson Heights, in Queens, where Nirval Shah's family began its Indian food business.
Rajbhog Sweets and Snacks is located in one of the most diverse communities in New York and the US.
Outside the shop, vegetable stores jostle with Bengali music vendors and sari shops for the attention of immigrants from Asia to South America.
Inside the shop, Mr Shah serves Indian dosas and drops sweet dessert balls into cartons for his customers.
He says it has not been easy. The whole family often works 14 hours a day, seven days a week, and they have been doing so since the 1970s.
But Rajbhog Sweets now employs 150 people. One couple have come from Dallas, Texas, having heard about the colourful ethnic desserts, made from honey and nuts.
"This is where we started as a mom-and-pop store and today we are a chain, a franchise all over the country," Mr Shah explains.
It is business owners such as Mr Shah who are increasingly seen as the spark-plugs of the US economy.
Jonathan Bowles, from the Centre for an Urban Future, says there has been an explosion of new immigrants in New York City in the last two decades.
"Today they are starting about half of all of the new businesses in the city," he says.
With millions still out of work in the wake of the recession, policymakers and experts are seizing on dynamic immigrant firms that can boost economic growth.
President Barack Obama says that America reaps incredible economic rewards "because we remain a magnet for the best and brightest from across the globe".
But opening the doors to greater immigration is a bone of contention here.
President Obama has signalled he wants a change in immigration policy to allow more potential entrepreneurs into the US.
Opposition Republicans and others have called this an amnesty on illegal migration.
New York Mayor Michael Bloomberg supports fixing a "broken immigration system".
Mr Bloomberg has called for more visas for bright entrepreneurs and foreign students.
Hard-working immigrants are seen as creative engines for the economy.
Figures from the US Patent Office, for example, show that immigrants patent twice as many inventions as non-immigrants.
Moreover, almost half the self-employed people in Mayor Bloomberg's city are immigrants, people such as Mimi Rasamee.
Petite, with dark hair, Ms Rasamee came to New York from Thailand in the 1980s and opened Pany Silk Flowers in Manhattan's 28th Street flower district.
Standing by a wall of pink amaryllis, red roses and giant African lilies, Ms Rasamee explains she was not planning on staying in America.
On her first day in business, though, a customer bought her entire stock.
"It was a miracle," she explains.
"After she left, I was just sitting down, I couldn't believe it. I thought, this is not a bad thing to do in New York."
Now the exotic plants in her Pany stores have even inspired Hollywood, appearing in the blockbuster film Avatar.
But there is a downside for newcomers.
Many are shut out of traditional careers and businesses also fail.
Mr Bowles says that many immigrants starting up a business are isolated and receive poor advice.
Yet many immigrants are driven to overcome all challenges.
Jay Chung is one of them.
Wearing a suit and tie in his packed showroom on 27th Street, Mr Chung picks up some of the hundreds of samples on the shelves.
It is a miniature bell with "I (heart) New York" - he owns the patent for this classic New York emblem - then a souvenir bag and an Empire State Building magnet
The souvenir business is very fashion-driven, Mr Chung explains, so his company, Jay Joshua, has constantly to create new designs for the millions of tourists visiting New York.
Mr Chung's first big break came with an order from department store Macy's, but he remembers the night he decided to go into business.
"When I had my second son, in the night-time, my second son [was] crying. I don't have the money for the milk. That was a turning-point night for me in my life."
Mr Shah, Ms Rasamee and Mr Chung say the American dream has worked for them.
They say the energy and diversity of New York City inspires them.
And for a nation still struggling out of a severe downturn, they and people like them inject some much needed dynamism.