BYOA: Can anyone build their own business app?
By Fiona Graham
Technology of business reporter, BBC News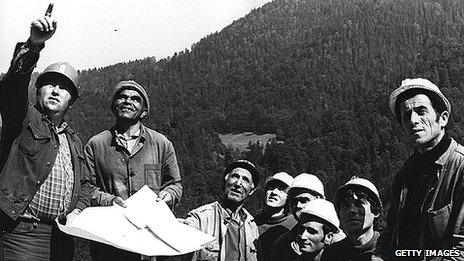 Creating apps - something that is done only by those initiated into the secret languages of computer software, the developers.
If you're putting together something on the scale of Adobe Photoshop from the bottom up, well, yes.
But for the slightly less ambitious, there's a growing number of platforms that allow "citizen developers" to put together business process applications tailored to their own way of working.
And you don't need a line of code to do it.
Melanie Roth, product manager for German daily deal company Rebate Networks, was sitting at her desk in her office in Berlin, when her colleague sent her a link she thought she might be interested in.
"They said it looks cool, it's a nice idea. I clicked on the link, I subscribed, I figured it out and played with it," she says.
"I really liked the idea from the first moment - to have a tool which makes it possible to design your work into the tool, and not to work how the tool is designed."
The link directed her to the Podio website.
The Danish start-up has developed what they call an online work platform. Occupying the same space as the likes of Box.net and Basecamp, it lets you manage various business process and manage projects centrally, with a built in social layer.
Podio has a business app store to complement this - and it also gives users the ability to build their own apps, tailored to their own work environments.
She was so impressed, she pushed the company to adopt the platform.
"My experience in other jobs before is that normally, especially in startups, they don't know about [business] processes."
Being able to create their own apps has worked well, says Ms Rothe.
"We have totally different skill levels in the countries [we are invested in], totally different requirements in each country, because you can't compare Croatia with Estonia for example."
The company has created apps to deal with issues as diverse as tracking technical complaints, to managing recruitment.
Ms Rothe writes no code, and has no technical qualification, having studied business administration, although does say she has a real interest in technical things.
"It's really easy - drag and drop, you don't need real technical skills. But you need to understand how these web 2.0 applications work."
Like its peers, the Podio platform lives in the cloud. It is free for up to ten users, after which it becomes a subscription service.
Chief executive Tommy Ahlers says the app building functionality is important not only because of its flexibility.
"One thing that you get when people build their own structures is that feeling of it being something for them. The audience feels extremely empowered, they feel they are doing something they couldn't do yesterday."
He is quick to point out the cost advantages.
"We see people building their own £100,000 product because they believe their process is so unique that they cannot live with any software that exists within the market.
"With £100,000 you do not have any money left to invest in usability and a social layer. That means that you create something that is really as boring as a web form."
Salesforce.com is best known for its customer relationship management and sales applications.
They have been providing the means for people to build their own business apps on their Force.com platform for several years now. It is aimed at both developers and ordinary users.
Salesforce's Tim Barker, says the "citizen developer" is nothing new.
"In businesses there is a long tail of apps in a business that traditionally people built either using desktop tools or Excel, or Microsoft Access, or visual basic."
He says there are two main forces driving changes in the types of applications being built.
"One is mobile, it's now seen as a must have for people. If I can't access that information on my mobile that's a problem.
"The other thing that's interesting is the impact that social media has had, creating a new way people are collaborating and sharing information.
"This is creating expectations in businesses."
As well as creating apps for their own use, companies sell them through Salesforce's app exchange.
Mr Barker says the company estimates that by using Force.com, businesses can build applications five times faster and at half the cost.
Nimbus Partners is a business process software company. Having been customers for Salesforce for some time, a few years ago the company decided to start building their own apps.
It started with human resources, with an application that let staff manage personal information. Next came expenses.
Nimbus Partner's Lucy Mills says before this it was all done through a large Excel spreadsheet.
"There was no visibility as to which clients you were spending on or what it was actually for, and it was very difficult as a global organisation to get sign-off on an Excel spreadsheet."
She says creating it was easy - and that it has reduced their expenses bill by 30%, now that people can see what they're spending.
"I suppose I'm quite geeky for a business user but it wouldn't actually matter if I wasn't.
"The app actually connects to customers so we can associate it to how much we're spending on them, not just how much we're spending from a finance perspective, and we're able to do sign offs anytime anywhere.
"Anyone can just raise their expenses through their employee record and submit them for approval."
So is the IT department out in the cold?
"This isn't the end of the IT department as we know it.
"I do think there's going to be a shift ... you're seeing this convergence of this kind of application development with cloud computing and things like that.
"IT is going to do a lot more of the heavy lifting, they're going to maintain the infrastructure, they're really going to have to do a lot of that back end integration work. Probably at the application level a lot more is going to fall to users.
She sees it as a potential win-win scenario, with staff building the apps they want - while IT departments are freed up to do other things.
"Whether it's going to happen that way I don't know.
"I think there will be some proprietary feelings within certain IT organisations towards software development. There may some initial resistance in some quarters."
Going beyond platforms like Podio and Salesforce, Ms All is not so sure we'll all soon be knocking off our own applications from the bottom up.
"I do think it's early days, I do think it's going to take a while to happen.
"I think most folks are saying it's going to be a decade or so before you begin to see this. I think that's true, it's not as user friendly as buying a smartphone.
"It is much more involved and this isn't going to be a trend for everyone."
Related Internet Links
The BBC is not responsible for the content of external sites.