UK service sector sees mixed fortunes, CBI says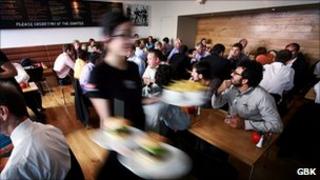 The UK service sector experienced mixed fortunes during the first three months of the year, according to the CBI.
Consumer service firms - such as hotels, bars and restaurants - saw a "sharp" decline in trade, as households cut back on spending.
However, business services - such as accountancy and marketing - saw "modest" growth and expect stronger trade to pick up in the coming months.
Both sectors said they had seen costs rising over the quarter.
The service sector accounts for about two-thirds of the UK economy.
The weakness in the consumer sector suggested by the CBI survey echoes figures released by the Office for National Statistics on Wednesday, which showed that household spending fell by 0.6% in real terms during the first quarter of the year, the biggest fall since the second quarter of 2009.
Ian McCafferty, the CBI's chief economic adviser, said: "When times are tough, consumers cut back their discretionary spending on holidays, leisure pursuits and meals out, and we are seeing that rising prices and squeezed incomes are holding back household spending."
However, he noted the better news from business service firms, with trade forecast to pick up and more jobs expected to be created.
"These are all sure-fire signs that business spending is picking up, which will help drive the recovery," Mr McCafferty said.
The CBI's service sector survey covered 175 firms and took place between 27 April and 18 May.