Tata Motors sees profits triple on Jaguar turnaround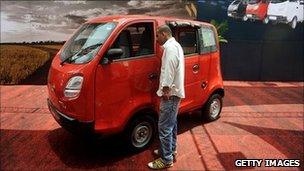 Tata Motors has reported a tripling of profits in the last year.
Business at its Jaguar Land Rover (JLR) subsidiary saw a sharp turnaround, with £1.1bn in profits before tax, having hardly broken even in the 2009-10 year.
The firm said it planned to expand exports by its UK subsidiary.
Exports already drove a 51% jump in revenues at JLR in the last year, with developing markets such as China seeing the fastest growth.
The UK share of its business dropped from 28% to 24% of sales.
The firm will open its first production line for JLR in India on Friday.
The jump in the UK unit's profits - flattered by the falling value of sterling - helped it pay off debts, with net debt falling by almost two-thirds to £233m.
The result reflected "consumer confidence in our brands", according to JLR chief executive, Dr Ralf Speth.
"We have committed more than £1bn a year over the next five years to the creation of new and exciting products," he added.
The UK firm has already unveiled a new £700,000 Jaguar hybrid supercar developed in co-operation with the Williams Formula 1 team.
Mumbai-based Tata Motors bought the Jaguar and Land Rover marques from Ford in 2008.
Meanwhile, sales at Tata's core Indian arm rose across the board, with both commercial vehicles and personal cars up 23%.
The company said it thought increased infrastructure spending in India would stimulate further demand for trucks, while it planned to expand sales of its passenger vehicles in rural India.
However, sales of small cars lagged somewhat in the last year, perhaps reflecting difficulties with the Tata Nano, the world's cheapest car, which began production in 2008.
Tata previously reported that sales of its Nano had slumped 85% in November last year.
The company blamed customers' difficulty in obtaining loans, however analysts say that price rises, as well as publicity related to a series of fires in previously sold cars, had a role in the drop in sales.
Tata said it planned to start exporting the Nano in the coming year.
Exports by its Indian business rose 70%, led by demand in neighbouring countries, but remained a negligible part of its sales.
Related Internet Links
The BBC is not responsible for the content of external sites.