Foreign investment in Indian oil exploration waning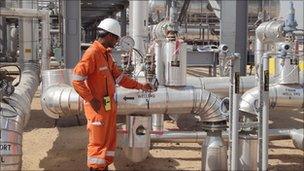 As India's economy grows and the country looks to become a major player in the global field, its demand for oil has been outpacing supply at an alarming rate.
In its effort to quench the nation's thirst for oil, India has auctioned off many areas to private companies for exploration.
Under the New Exploration Licensing Policy (NELP), the government has offered various blocks, hoping to attract foreign capital and expertise, especially from explorers such as BP, BG Group, Cairn and Santos Ltd.
The reason is simple. India currently imports more than 75% of the crude oil its economy needs.
The country is hoping for massive investment in the explorations sector to speed up the hunt for sources of oil.
But despite the efforts by the government, investment has slowed in the last couple of years.
Overall foreign direct investment (FDI) flowing into the country dipped sharply by 22%, to $21bn (£13bn) in 2010 from $27bn in 2009.
FDI is crucial to energy-hungry India. It is hoping for at least $40bn investment in the exploration sector to reduce its dependence on foreign oil.
However, many feel that the authorities are not sending the right signals.
The country's biggest oil find in the last 25 years is in Barmer in north-west India.
Known as the Mangala field, it was first of the three discoveries that Cairn India - a subsidiary of UK company Cairn Energy - put into production.
This field was to produce nearly 20% of India's crude oil needs.
Using the Cairn discovery as a role model, the government was hoping to make India's oil exploration programme a success.
But Cairn Energy has hit some serious obstacles.
The Mangala field and tempting discoveries were on offer as part of a deal where British company Vedanta Resources agreed to buy 51% of Cairn India Ltd.
But this has been stuck for more than nine months over a spat about oil royalties.
State-owned Oil and Natural Gas Corp (ONGC) has a 30% share in the agreement, but it pays 100% of the royalties on those assets to the government, while India had offered a "royalty holiday" scheme to Cairn as a part of the exploration deal.
But now with profits soaring, ONGC wants a rethink on this agreement.
A group of ministers has been asked to decide whether imposing conditions on the company will violate India's bilateral investment promotion treaty (BIPA) with the UK.
However, analysts say they are confident that the authorities will settle the issue quickly.
"We are pretty optimistic that the government is going to really push this fairly strongly from a policy standpoint and a regulatory standpoint to make it attractive for people to come and invest in India," said Dilip Khanna, of Ernst & Young.
Despite the optimism of industry watchers, the indicators point in the opposite direction.
In March this year under NELP, the government had offered 34 exploration blocks for auction, of which one didn't have any bidders and 14 got just one bid each.
Major explorers, like Exxon Mobil, Chevron, BP and Royal Dutch Shell, avoided the auction.
Analysts say that this is a worrying trend for the development of the sector.
"There is a requirement of expertise, which these international companies can bring with them, and that would make a huge difference in the energy scenario going forward," said Varun Bhutani, of Halliburton Consulting.
However, some analysts see this reluctance on behalf of foreign investors as almost a tribute to the growing confidence and expertise of the Indian companies.
"You have Indian players who can take up the responsibility going forward. So the reliance on foreign players to that extent has come down," said Nabin Ballodia, of KPMG
The Cairn Vedanta deal is not the only factor that is keeping foreign companies away from Indian shores.
Many companies are put off by the lack of clarity in India's exploration and production policies as seen in gas-pricing and tax-holiday concessions.
The first eight rounds under the NELP were eligible for a seven-year profit-linked tax holiday on production of mineral oil.
But now India is expected to bring in the new Direct Tax Code - a major tax-reforms policy which is likely to become effective on 1 April 2012.
As per this bill, exploration companies will be entitled to investment-linked tax deduction rather than a profit-linked tax holiday.
Oil and gas are deemed national assets, so it's tightly regulated both in policy and pricing in India.
And unless there is more clarity in the country's energy policies, most global majors will continue to shun the country's energy sector as an investment destination.