Mladic arrest moves Serbia one big step closer to EU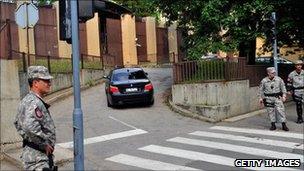 The arrest and extradition to the Hague of General Ratko Mladic removes the biggest single impediment to Serbia's ambition of joining the European Union.
That's the headline, at least.
But the reality Serbia faces is a lot longer and harder than that.
As the country's counterpart and erstwhile foe Croatia has discovered, there is no smooth path to Europe.
Despite complying with the Hague since 2005, the Croats still have yet to join the political bloc.
Zagreb's experience will be instructive for Belgrade.
First of all, there is the small matter of Goran Hadzic.
Although not a household name like Mladic or Karadzic, Mr Hadzic has also been indicted by the Yugoslav crimes tribunal for war crimes.
He stands accused of the ethnic cleansing Croats from the majority-Serb Croatian province of Krajina in the early days of the 1990s civil war.
Mr Hadzic remains at large, although rumours abound that he may be living abroad, perhaps in Belarus.
In the case of Croatia, the EU was willing to start negotiations, even though the country had failed to capture its last war criminal - General Ante Gotovina, who eventually turned up in Spain.
So hopefully Serbia is now finally set to begin formal negotiations to join the EU sometime next year.
But the negotiations themselves are no picnic.
There are 35 separate "chapters" to be agreed - covering everything from tax to foreign relations, education to security.
The process typically lasts about four years, if all goes smoothly.
Croatia hopes to wrap up its application this summer after six years.
There are however some areas that are likely to prove quite tricky for Serbia to comply with.
Environmental standards at mines and some industries inherited from the Yugoslav days are poor, to say the least.
The continuing grip of the Serb mafia - something the current government is tackling head-on - as well as the perennial post-communist headache of bureaucratic corruption will also make it hard for Belgrade to turn European laws on paper into actual practice.
It may also prove tricky to wean state-owned industry off government subsidies - if Croatia's experience is anything to go by.
But economist Peter Sanfey of the European Bank for Reconstruction and Development is confident Serbia will cope well.
"By the standards of the region, Serbia has a strong administrative capacity," he says. "And Serbia has been gearing up for its candidacy for some years now."
But assuming Serbia - like other before it - does eventually work its way through the mountain of paperwork, there is still another very big obstacle that looms over its membership hopes: Kosovo.
Serbia still does not acknowledge the former Serb region's independence.
It is a highly emotive issue among the Serb public, and not one on which even the country's liberal-minded President, Boris Tadic, is ready to breach faith with his voters over.
Indeed, President Tadic pre-emptively called on the international community to investigate allegations of human organ trafficking by the Kosovars in his announcement of General Mladic's arrest.
While the European Commission has said that recognising Kosovo is not a precondition to joining, the fact is that Serbia will need all 27 current members to ratify its application, and any one of them could raise Kosovo as an objection.
Cyprus is a case in point: despite the country's continued division, the Greek half of the island has been able to join, with strong backing from Greece (which is also likely to back Serb membership).
But Turkey's application has been stymied by the same issue.
Croatia also has a story to tell.
It hoped to wrap up its application in 2009. But then the Slovenes threw a spanner in the works.
Their neighbours raised a long-standing border dispute, and refused to ratify Croatia's application until it was resolved.
This is exactly the kind of last-minute brinksmanship of which Serbia will need to be wary.
Croatia will be a member before Serbia is. Neighbouring Hungary, Romania and Bulgaria are already members.
And any one of them could threaten to veto Serbia's dream, over Kosovo, or Serbia's policy towards Bosnia, or over treatment of Serbia's Hungarian minority, or any one of a dozen other issues.
But again, Mr Sanfey is optimistic: "Among all the EU countries, including Croatia, there is a strong will to get Serbia in."
He claims there is a good chemistry between the Serb and Croat presidents.
But he admits that only time will tell.