Small firms seek crowd funding
By Catherine Burns
Business reporter, BBC News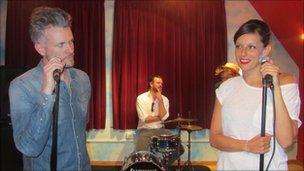 High Street banks lent £16.8bn to small businesses in the first three months of this year, meaning they are likely to fall short of lending targets set by the government under the so-called Project Merlin deal.
Just this week Business Secretary Vince Cable said: "There is a serious problem with lending to good, small companies."
But what can companies do if they are struggling to get the money they need?
One possible answer is crowd funding.
A couple of years ago Sue Acton set up her own company making Fair Trade certified soaps.
"Bubble and Balm is already available in a couple of great High Street retailers," she says.
"Now we're looking for the funds to take us to the next level - to take us from a niche operation into a much bigger company."
So she is pitching to potential investors. She is offering a 15% stake in her business in return for £75,000.
But instead of applying directly to business angels or venture capitalists, she is trying crowd funding.
This is when people group together and pool their money to back a project. It means they can each invest without necessarily committing huge amounts of cash.
It is normally done online. Some websites offer shares or cash profits. Others promise perks or freebies instead.
Sue's pitch is on the website Crowdcube.
"It is so difficult to raise finance," she says. "But we've been crowd funding now for two months, we're already at 22% of target, so I'm really optimistic about it."
So far 19 different people have invested in her company. Some have pledged as little as £20, and others have gone up to £5,000.
Darren Westlake co-founded the company, and believes it is going to revolutionise the way businesses are funded.
"We are democratising an age-old model for raising business finance by empowering the 'crowd' to pool small amounts of investment money and give Britain's start-ups a much needed boost," he says.
"Crowdcube is the next generation of business investment."
Crowd funding is not just for traditional businesses.
Folk rock band The Chain are asking for £100,000 on the website My Major Company. It's a part crowd funding site, and part record label.
So far, they have got 111 investors - ranging from £10 to £1,000. Singer Ben Parker says if they do not reach the £100,000 target, everyone gets their money back.
But if they do, the band will use it to make their album, market and go on tour.
"Because there's quite a number of investors, you feel like there's a loyal band of people supporting you. It's about fans getting involved and loving the process," he says.
Bandmate Kate Aumonier is convinced they will raise the cash.
"Our investors are great and they're really interactive. It's a bit of a community, and a lifestyle," she says.
"It's the Facebook generation who love music, and they can actually get involved and promote what they love."
My Major Company started in France, and has more than 30 fully-funded artists on its books there.
The first, Gregoire, sold more than a million albums. Anyone who invested in him made their money back 25 times over.
"It's the music business, so nothing is guaranteed, but if investors have belief in the right act, it can turn into profit," says Jimmy Mikaoui, head of platform at My Major Company.
He insists the company takes its responsibility to investors seriously.
"There is a strong sense of liability to the investor because everything is public. Every penny we spend.
"The investors follow our decisions and comment on them on the forum. So the most important thing for us is the guarantee that the money will be well-spent."
But Tony Watts, a banking solicitor with Keystone Law, says it is important to do some research before investing in a crowd funding scheme.
"Crowd funding is new, and the regulation is a grey area. It's worth doing your homework to check if a person authorised by a regulatory body like the FSA [Financial Services Authority] is involved," he says.
"Otherwise, make sure you know how it works. Check the terms and conditions carefully. Make sure it actually delivers what you want it to."
You can see more on this on Show Me The Money on the BBC News Channel on Sunday, 29 May at 2130 BST.
Related Internet Links
The BBC is not responsible for the content of external sites.