Chinese firm at centre of Yahoo dispute gets licence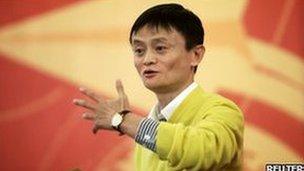 Alipay, the firm at the centre of a dispute with Yahoo, has received a licence from China's central bank.
Alipay was spun off from China's Alibaba Group, which is 43% owned by Yahoo, in order to apply for the online payments licence. These are only available to wholly Chinese firms.
Earlier in May, Yahoo said Alibaba had spun off Alipay without informing it, sending its shares down sharply.
Investors are concerned Yahoo may lose control over its Chinese investments.
Yahoo and Chinese partner Alibaba have said they are trying to resolve their disagreement, presenting a united front after a public spat.
In a joint statement, the two companies said that they were "engaged in and committed to productive negotiations", but provided no other details.
Shares in Yahoo continued to fall in New York on Thursday, closing more than 1% lower.
Alipay is an online payment system.
Related Internet Links
The BBC is not responsible for the content of external sites.