MGM China raises $1.5bn in Hong Kong share flotation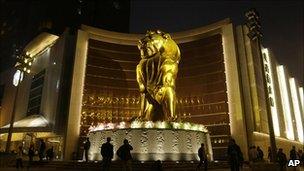 MGM China has raised $1.5bn (£912m) through a share flotation in Hong Kong, as investors look to grab a slice of Macau's gambling boom.
The company priced its stock at HK$15.34 per share, the top end of its expected range.
Gambling revenues in Macau have been rising turning it into the world's biggest gambling market.
MGM China is one of the only six companies that have a licence to operate casinos in Macau.
The company is a joint venture between MGM Resorts International, which owns some of the biggest casinos in the US and Pansy Ho, the daughter of casino mogul Stanley Ho, the largest casino operator in Macau.
The biggest beneficiary of the share sale is expected to be Ms Ho.
According to the previous arrangement, MGM and Ms Ho owned an equal 50% stake in the company.
However, according to an agreement between the two in April, Ms Ho will sell 21% of her stock, hence pocketing most of the cash from the sale.
According to some estimates, this may see her net worth swell to as much as $5bn, propelling her over her father, Stanley Ho, who's fortune is estimated to be around $3bn.
MGM's stake in the company will increase to 51% after the share sale.