Severn Trent misses water leakage target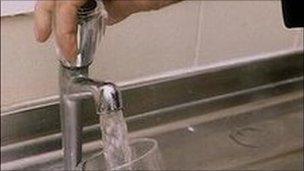 Severn Trent water company has missed its leakages target, blaming severe winter weather for rise in the number of broken pipes.
Severn, which has eight million customers in the UK, failed to meet regulator Ofwat's reduced benchmark of 483 megalitres per day for 2010-11.
The company pointed out that the leakage rate still matched the previous year's level despite the cold weather.
Meanwhile, Severn reported a 24.3% fall in annual pre-tax profits to £253m.
Ofwat has the power to fine companies and impose increased monitoring if water firms do not meet leakage targets.
But Severn chief executive Tony Wray said the company had actually volunteered a lower leakage target than the one proposed by Ofwat.
"It was the coldest December for 100 years and the outbreak of burst pipes was pretty huge," Mr Wray said.
"We kept our leakage as low as last year, which was a record low for us."
Severn blamed its first above-target leakage performance for five years on two periods of freezing temperatures followed by a thaw, and pledged more investment.
"We have taken into account recent experiences and have already commenced with plans to improve the resilience of our network," the company said in a statement.
Underlying pre-tax profits, which exclude one-off gains or losses, fell 14.7% to £288.6m in the year to 31 March.
Revenues in Severn's regulated water business were up 0.3% to £1.4bn after Ofwat imposed a 0.7% drop in prices.
On Thursday, North West Water operator United Utilities said the "extraordinary efforts" of staff had enabled it to meet its annual leakage target.
Related Internet Links
The BBC is not responsible for the content of external sites.