Britvic profits stay flat despite sales fizz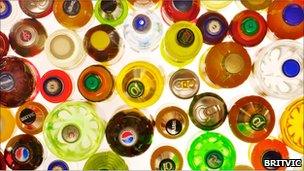 Britons are turning to fizzy drinks as they trade down from premium juices, according to Britvic.
The firm behind Robinsons, Tango, and J2O said fizzy drink volumes in the six months to 17 April rose 4.7%.
This compared with a 3.9% fall the volume of "still" sales, mainly due to pub-goers moving from J20s and Britvic mixers to on-tap carbonates.
Britvic's pre-tax profits for the half-year were flat at £27.7m due to a sharp rise in the price sugar and oil.
The company, which has the rights to sell Pepsi and 7Up in the UK, saw revenues rise more than 25% to £505m, with strong growth in international sales. Revenues in Britain were up 4%.
But profit growth was held back by what Britvic call an "unprecedented" period of rising prices of commodities.
The group cautioned earlier this year that its margins would be squeezed by a "rapid" surge in raw material costs that would stifle profits growth.
Keith Bowman, an analyst at Hargreaves Lansdown Stockbrokers, said the challenges facing Britvic remain significant.
He added: "Elevated commodity prices continue to pressure margins, while customer disposable income remains constrained across a number of important markets."
Related Internet Links
The BBC is not responsible for the content of external sites.